640313 - Letter to an Appeal to the Vaisnava Sects written from Delhi
From Vanisource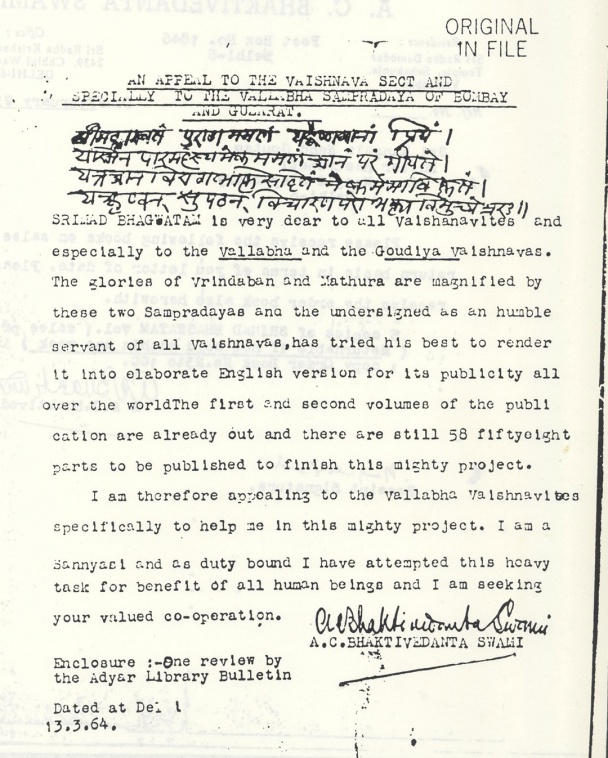 AN APPEAL TO THE VAISNAVA SECT AND SPECIALLY TO THE VALLABHA SAMPRADAYA OF BOMBAY AND GUJARAT.
śrīmad-bhāgavataṁ purāṇam amalaṁ yad vaiṣṇavānāṁ priyaṁ
yasmin pāramahaṁsyam ekam amalaṁ jñānaṁ paraṁ gīyate
tatra jñāna-virāga-bhakti-sahitaṁ naiṣkarmyam āviskṛtaṁ
tac chṛṇvan su-paṭhan vicāraṇa-paro bhaktyā vimucyen naraḥ
SRIMAD BHAGwATAM is very dear to all Vaishnavites and especially to the Vallabha and the Goudiya Vaishnavas. The glories of Vrindaban and Mathura are magnified by these two Sampradayas and the undersigned as an humble servant of all Vaishnavas, has tried his best to render it into elaborate English version for its publicity all over the world. The first and second volumes of the publication are already out and there are still 58 fifty eight parts to be published to finish this mighty project.
I am therefore appealing to the Vallabha Vaisnavites specifically to help me in this mighty project. I am a Sannyasi and as duty bound I have attempted this heavy task for benefit of all human beings and I am seeking your valued co-operation.


A.C. BHAKTIVEDANTA SWAMI
Enclosure :-One review by the Adyar Library Bulletin
Dated at Delhi
13.3.64