660611 - Letter to Mr. I. N. Wankawala written from New York
From Vanisource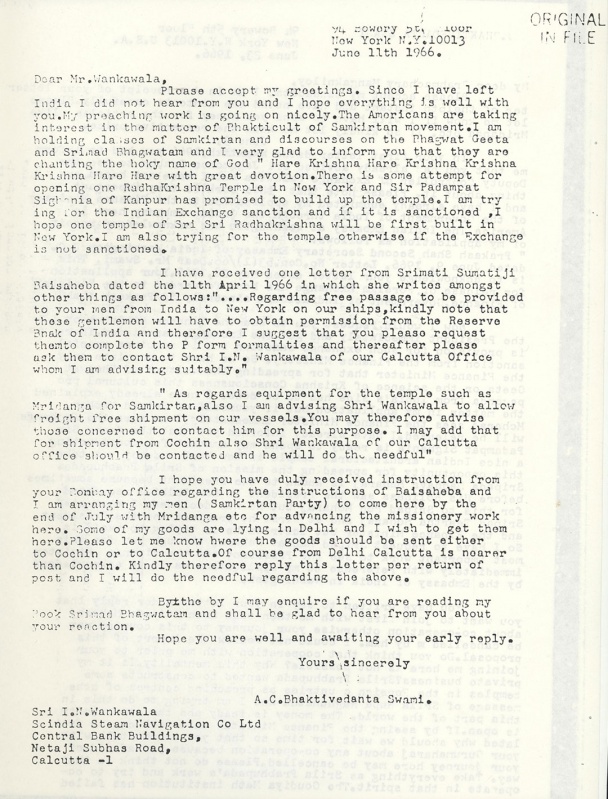 94 Bowery 5th Floor
New York N.Y.10013
June 11th 1966.
Dear Mr. Wankawala,
Please accept my greetings. Since I have left India I did not hear from you and I hope everything is well with you. My preaching work is going on nicely. The Americans are taking interest in the matter of Bhakticult of Samkirtan movement. I am holding classes of Samkirtan and discourses on the Bhagwat Geeta and Srimad Bhagwatam and I am very glad to inform you that they are chanting the holy name of God "Hare Krishna Hare Krishna Krishna Krishna Hare Hare" with great devotion. There is some attempt for opening one RadhaKrishna Temple in New York and Sir Padampat Sighania of Kanpur has promised to build up the temple. I am trying for the Indian Exchange sanction and if it is sanctioned, I hope one temple of Sri Sri Radhakrishna will be first built in New York. I am also trying for the temple otherwise if the Exchange is not sanctioned.
I have received one letter from Srimati Sumatiji Baisaheba dated the 11th April 1966 in which she writes amongst other things as follows: "....Regarding free passage to be provided to your men from India to New York on our ships, kindly note that these gentlemen will have to obtain permission from the Reserve Bank of India and therefore I suggest that you please request them to complete the P form formalities and thereafter please ask them to contact Shri I.N. Wankawala of our Calcutta Office whom I am advising suitably."
"As regards equipment for the temple such as Mridanga for Samkirtan, also I am advising Shri Wankawala to allow freight free shipment on our vessels. You may therefore advise those concerned to contact him for this purpose. I may add that for shipment from Cochin also Sri Wankawala of our Calcutta office should be contacted and he will do the needful."
I hope you have duly received instruction from your Bombay office regarding the instructions of Baisaheba and I am arranging my men (Samkirtan Party) to come here by the end of July with Mridanga etc for advancing the missionary work here. Some of my goods are lying in Delhi and I wish to get them here. Please let me know where the goods should be sent either to Cochin or to Calcutta. Of course from Delhi Calcutta is nearer than Cochin. Kindly therefore reply this letter per return of post and I will do the needful regarding the above.
By the by I may enquire if you are reading my Book Srimad Bhagwatam and shall be glad to hear from you about your reaction.
Hope you are well and awaiting your early reply.
Yours sincerely

A.C. Bhaktivedanta Swami.
Sri I.N.Wankawala
Scindia Steam Navigation Co Ltd
Central Bank Buildings,
Netaji Subhas Road,
Calcutta -1