670203 - Letter to Gargamuni written from San Francisco
From Vanisource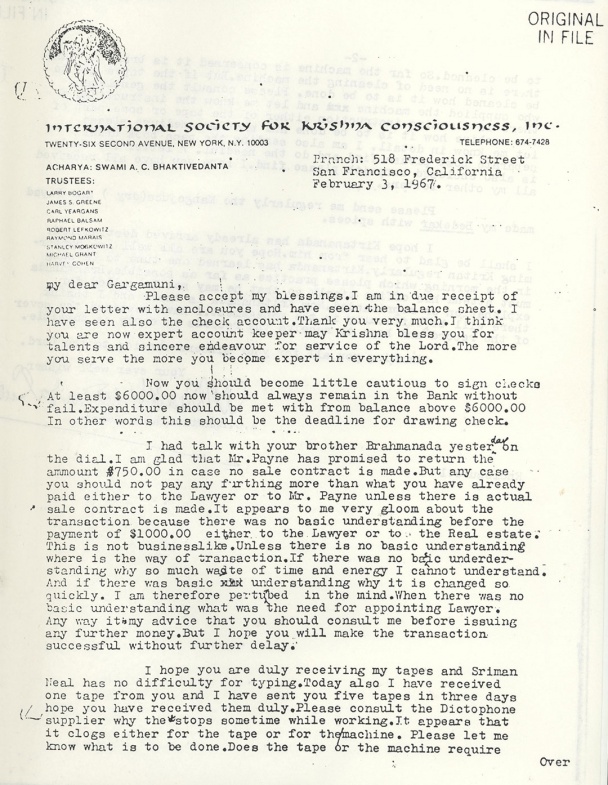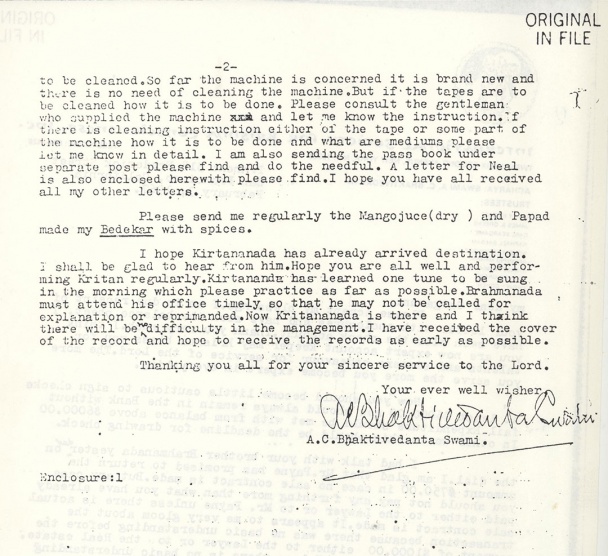 INTERNATIONAL SOCIETY FOR KRISHNA CONSCIOUSNESS, INC.
TWENTY-SIX SECOND AVENUE, NEW YORK, N.Y. 10003                                 TELEPHONE: 674-7428
Branch 518 Frederick Street
San Francisco, California,
February 3, 1967
'ACHARYA:SWAMI A.C. BHAKTIVEDANTA
TRUSTEES:
Larry Bogart
James S. Greene
Carl Yeargans
Raphael Balsam
Robert Lefkowitz
Raymond Marais
Stanley Mogkowitz
Michael Grant
Harvey Cohen

My dear Gargamuni,
Please accept my blessings. I am in due receipt of your letter with enclosures and have seen the balance sheet. I have seen also the check account. Thank you very much. I think you are now expert account keeper may Krishna bless you for talents and sincere endeavour for service of the Lord. The more you serve the more you become expert in everything.
Now you should become little cautious to sign checks. At least $6000.00 now should always remain in the Bank without fail. Expenditure should be met with from balance above $6000.00. In other words this should be the deadline for drawing check.
I had talk with your brother Brahmananda yesterday [handwritten] on the dial. I am glad that Mr. Payne has promised to return the amount $750.00 in case no sale contract is made. But any case you should not pay any farthing more than what you have already paid either to the Lawyer or to Mr. Payne unless there is actual sale contract is made. It appears to me very gloom about the transaction because there was no basic understanding before the payment of $1000.00 either to the Lawyer or to the Real estate. This is not businesslike. Unless there is no basic understanding where is the way of transaction. If there was no basic understanding why so much waste of time and energy I cannot understand. And if there was basic understanding why it is changed so quickly. I am therefore perturbed [handwritten] in the mind. When there was no basic understanding what was the need for appointing Lawyer. Any way it is my advice that you should consult me before issuing any further money. But I hope you will make the transaction successful without further delay.
I hope you are duly receiving my tapes and Sriman Neal has no difficulty for typing. Today also I have received one tape from you and I have sent you five tapes in three days hope you have received them duly. Please consult the Dictaphone supplier why the it stops sometime while working. It appears that it clogs either for the tape or for the machine. Please let me know what is to be done. Does the tape or the machine require to be cleaned. So far the machine is concerned it is brand new and there is no need of cleaning the machine. But if the tapes are to be cleaned how it is to be done. Please consult the gentleman who supplied the machine and let me know the instruction. If there is cleaning instruction either of the tape or some part of the machine how it is to be done and what are mediums please let me know in detail. I am also sending the pass book under separate post please find and do the needful. A letter for Neal is also enclosed herewith please find. I hope you have all received all my other letters.
Please send me regularly the Mango juice (dry) and Papad made by Bedekar with spices.
I hope Kirtanananda has already arrived destination. I shall be glad to hear from him. Hope you are all well and performing Kirtan regularly. Kirtanananda has learned one tune to be sung in the morning which please practice as far as possible. Brahmananda must attend his office timely so that he may not be called for explanation or reprimanded. Now Kirtanananda is there and I think there will be no [handwritten] difficulty in the management. I have received the cover of the record and hope to receive the records as early as possible.
Thanking you all for your sincere service to the Lord.
Your ever well wisher,



A.C. Bhaktivedanta Swami.



Enclosure: 1