670217 - Letter to Carl E. Maxwell-Payne written from San Francisco
From Vanisource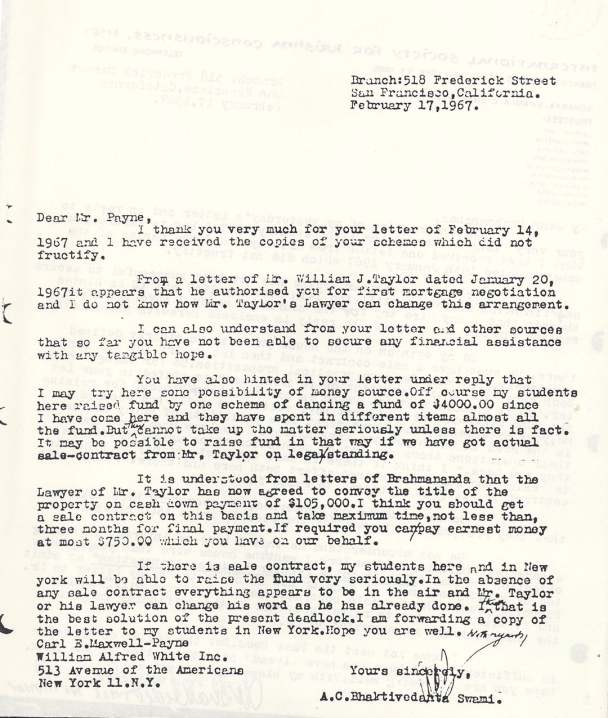 Branch:518 Frederick Street
San Francisco,California.
February 17, 1967



Dear Mr. Payne,
I thank you very much for your letter of February 14, 1967 and I have received the copies of your schemes which did not fructify.
From a letter of Mr. William J. Taylor dated January 20, 1967 it appears that he authorised you for first mortgage negotiation and I do not know how Mr. Taylor's Lawyer can change this arrangement.
I can also understand from your letter and other sources that so far you have not been able to secure any financial assistance with any tangible hope.
You have also hinted in your letter under reply that I may try here some possibility of money source. Of course my students here raised fund by one scheme of dancing a fund of $4000.00 since I have come here and they have spent in different items almost all the fund. But they [handwritten] cannot take up the matter seriously unless there is fact. It may be possible to raise fund in that way if we have got actual sale-contract from Mr. Taylor on legal standing.
It is understood from letters of Brahmananda that the Lawyer of Mr. Taylor has now agreed to convey the title of the property on cash down payment of $105,000. I think you should get a sale contract on this basis and take maximum time, not less than, three months for final payment. If required you can pay earnest money at most $750.00 which you have on our behalf.
If there is sale contract, my students here and in New York will be able to raise the fund very seriously. In the absence of any sale contract everything appears to be in the air and Mr. Taylor or his lawyer can change his word as he has already done. I think [handwritten] that is the best solution of the present deadlock. I am forwarding a copy of the letter to my students in New York. Hope you are well. With regards, [handwritten]
Carl E. Maxwell-Payne
William Alfred White Inc.
513 Avenue of the Americans
New York 11. N.Y.
Yours sincerely,
     


A.C. Bhaktivedanta Swami.