670414 - Letter to Janardana written from New York
From Vanisource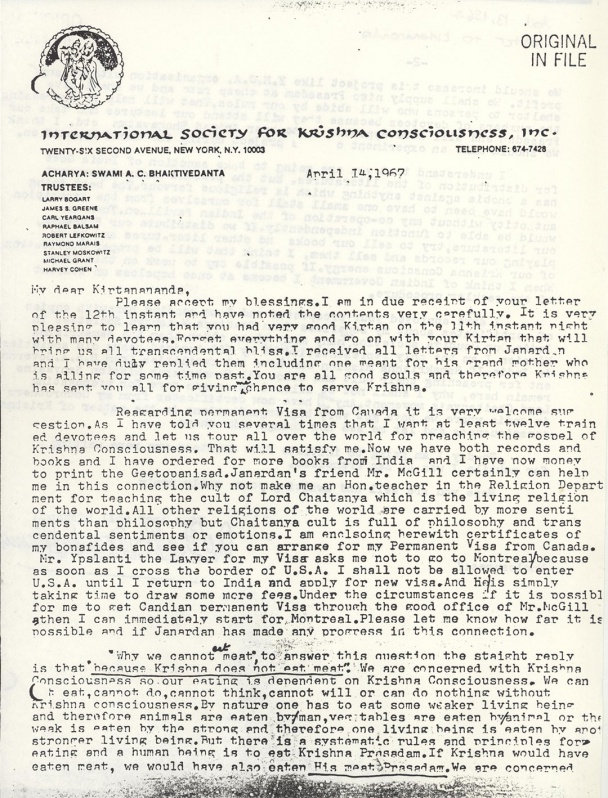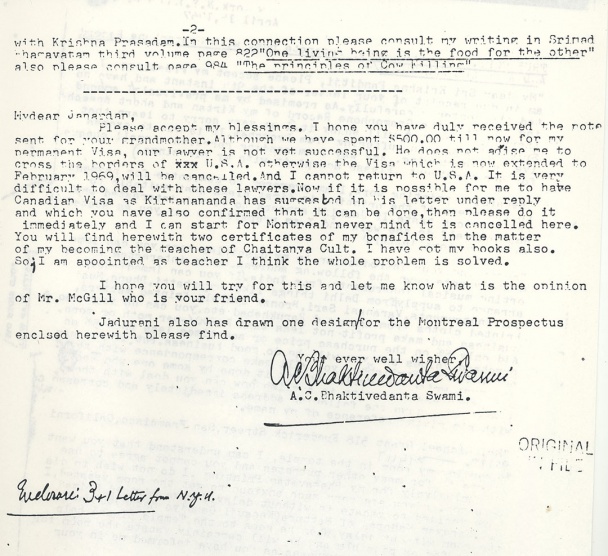 INTERNATIONAL SOCIETY FOR KRISHNA CONSCIOUSNESS, INC.
TWENTY SIX-SECOND AVENUE NEW YORK N.Y.10003                           TELEPHONE:674-7428
April 14;1967
ACHARYA:SWAMI A.C. BHAKTIVEDANTA
TRUSTEES:
LARRY BOGART
JAMES S. GREENE
CARL YEARGANS
RAPHAEL BALSAM
ROBERT LEFKOWITZ
RAYMOND MARAIS
STANLEY MOSKOWITZ
MICHAEL GRANT
HARVEY COHEN
My dear Janardan,
Please accept my blessings. I hope you have duly received the note sent for your grandmother. Although we have spent $500.00 till now for my permanent Visa, our Lawyer is not yet successful. He does not advise me to cross the borders of U.S.A. otherwise the Visa which is now extended to February 1969, will be cancelled. And I cannot return to U.S.A. It is very difficult to deal with these lawyers. Now if it is possible for me to have Canadian Visa as Kirtanananda has suggested in his letter under reply and which you have also confirmed that it can be done, then please do it immediately and I can start for Montreal never mind it is cancelled here. You will find herewith two certificates of my bonafides in the matter of my becoming the teacher of Chaitanya Cult. I have got my books also. So if I am appointed as teacher I think the whole problem is solved.

I hope you will try for this and let me know what is the opinion of Mr. McGill who is your friend.

Jadurani also has drawn one design for the Montreal Prospectus enclosed herewith please find.


Your ever well wisher,



A.C. Bhaktivedanta Swami.



Enclosure: 3 + 1 Letter from N.Y.U. [handwritten]