670609 - Letter to Mukunda written from New York
From Vanisource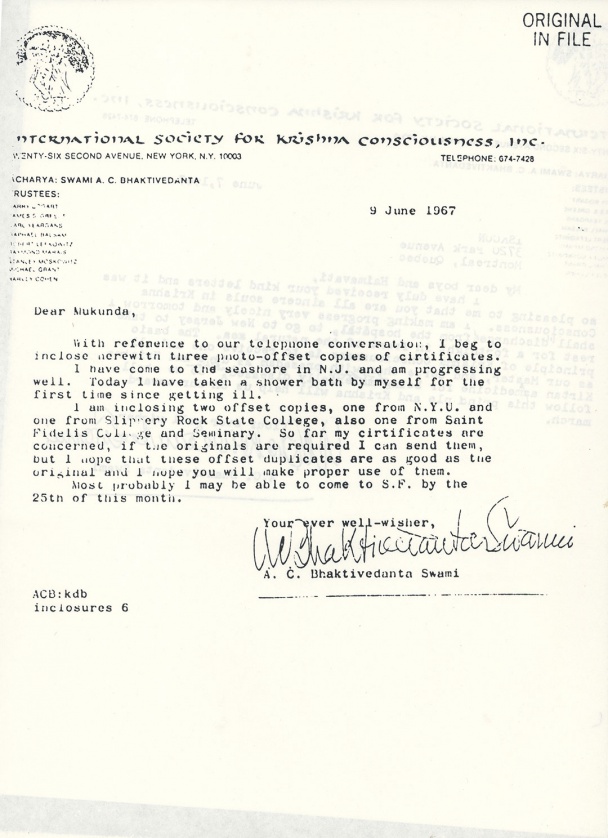 INTERNATIONAL SOCIETY FOR KRISHNA CONSCIOUSNESS, INC.
TWENTY-SIX SECOND AVENUE NEW YORK N.Y. 10003
Telephone: 674-7428
ACHARYA:SWAMI A.C. BHAKTIVEDANTA
TRUSTEES:
Larry Bogart
James S. Greene
Carl Yeargans
Raphael Balsam
Robert Lefkowitz
Raymond Marais
Stanley Mogkowitz
Michael Grant
Harvey Cohen

9 June 1967

Dear Mukunda,
With reference to our telephone conversation, I beg to enclose herewith three photo-offset copies of certificates.
I have come to the seashore in N.J. and am progressing well. Today I have taken a shower bath by myself for the first time since getting ill.
I am enclosing two offset copies, one from N.Y.U. and one from Slippery Rock State College, also one from Saint Fidelis College and Seminary. So far my certificates are concerned, if the originals are required I can send them, but I hope that these offset duplicates are as good as the original and I hope you will make proper use of them.
Most probably I may be able to come to S.F. by the 25th of this month.

Your ever well-wisher,



A.C. Bhaktivedanta Swami

ACB:kdb
Enclosures 6