671009 - Letter to Sri Krishna Panditji written from Delhi
From Vanisource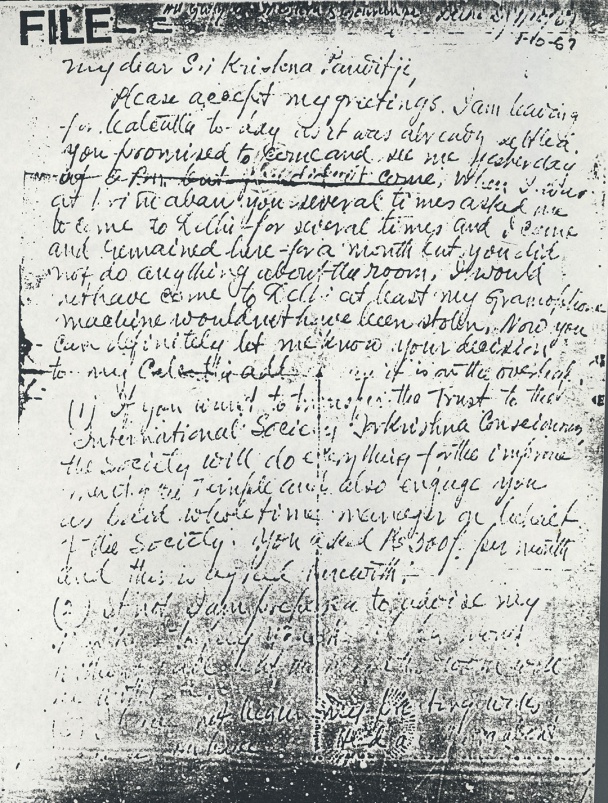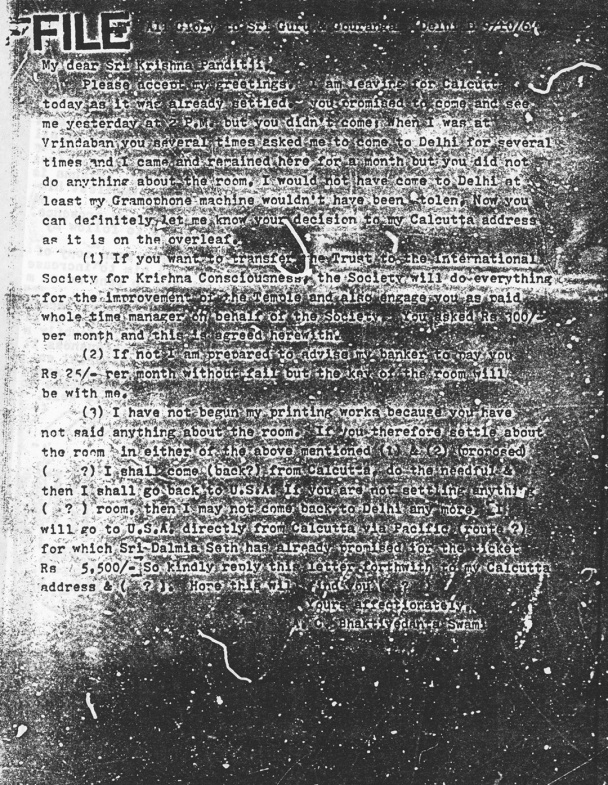 [Handwritten]
All Glory to Sri Guru & Gouranga
Delhi
9/10/67

My dear Sri Krishna Panditji,
Please accept my greetings. I am leaving for Calcutta today as it was already settled. You promised to come and see me yesterday at 2 P.M. but you didn't come; When I was at Vrindaban you several times asked me to come to Delhi for several times and I came and remained here for a month but you did not do anything about the room, I would not have come to Delhi at least my Gramophone machine wouldn't have been stolen, Now you can definitely let me know your decision to my Calcutta address as it is on the overleaf.
(1) If you want to transfer the Trust to the International Society for Krishna Consciousness, the Society will do everything for the improvement of the Temple and also engage you as paid whole time manager on behalf of the Society. You asked Rs 300/- per month and this is agreed herewith.
(2) If not I am prepared to advise my banker to pay you Rs 25/- per month without fail but the key of the room will be with me.
(3) I have not begun my printing works because you have not said anything about the room. If you therefore settle about the room in either of the above mentioned (1) & (2) (proposed)( ?) I shall come (back?) from Calcutta, do the needful & then I shall go back to U.S.A. If you are not settling anything ( ?) room, then I may not come back to Delhi any more. I will go to U.S.A. directly from Calcutta via Pacific (route ?) for which Sri Dalmia Seth has already promised for the ticket Rs. 5,500/-. So kindly reply this letter forthwith to my Calcutta address & ( ?) Hope this will find you well.
Yours affectionately,
A.C. Bhaktivedanta Swami