671216b - Letter to Subala written from San Francisco
From Vanisource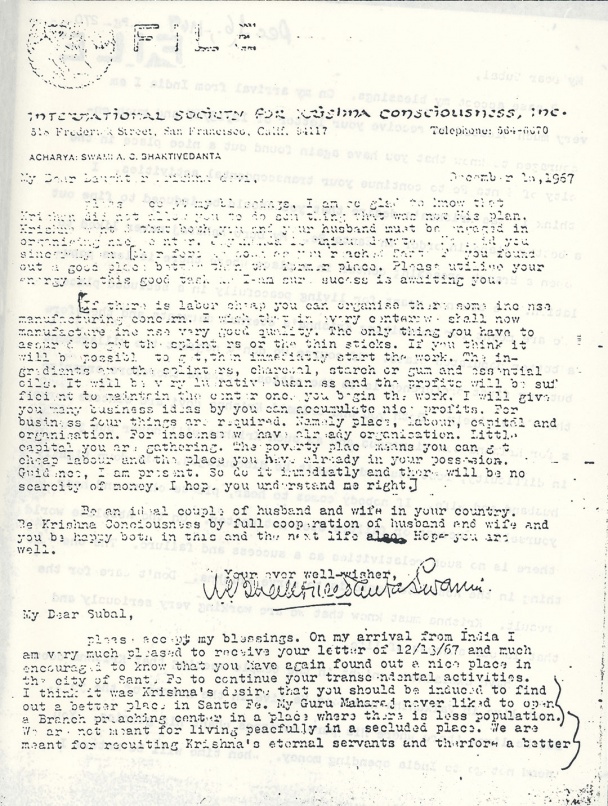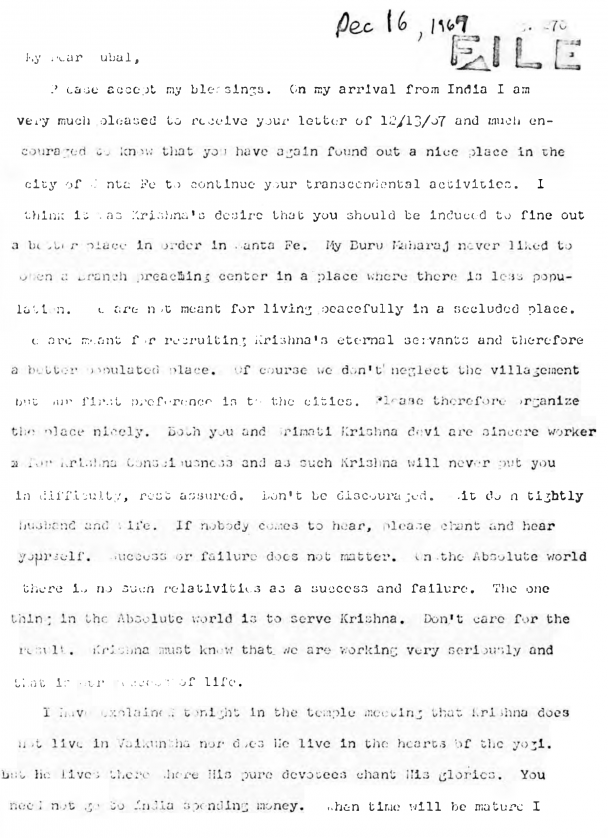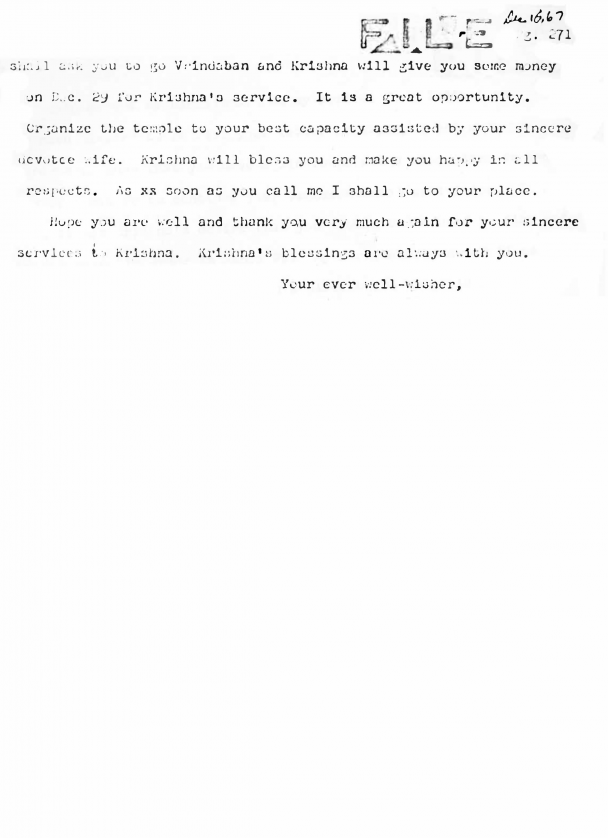 INTERNATIONAL SOCIETY FOR KRISHNA CONSCIOUSNESS, INC.
518 Frederick Street, San Francisco. Calif 94117                     Telephone:564-6670
ACHARYA:SWAMI A.C. BHAKTIVEDANTA
December 16, 1967
My Dear Subal,
Please accept my blessings. On my arrival from India I am very much pleased to receive your letter of 12/13/67 and much encouraged to know that you have again found out a nice place in the city of Santa Fe to continue your transcendental activities. I think it was Krishna's desire that you should be induced to find out a better place in Santa Fe. My Guru Maharaj never liked to open a Branch preaching center in a place where there is less population. We are not meant for living peacefully in a secluded place. We are meant for recruiting Krishna's eternal servants and therefore a better populated place. Of course we don't neglect the villagement but our first preference is to the cities. Please therefore organize the place nicely. Both you and Srimati Krishna devi are sincere worker for Krishna Consciousness and as such Krishna will never put you in difficulty, rest assured. Don't be discouraged. Sit down tightly husband and wife. If nobody comes to hear, please chant and hear yourself. Success or failure does not matter. On the Absolute world there is no such relativities as a success and failure. The one thing in the Absolute world is to serve Krishna. Don't care for the result. Krishna must know that we are working very seriously and that is our success of life.
I have explained tonight in the temple meeting that Krishna does not live in Vaikuntha nor does He live in the hearts of the yogi. But He lives there where His pure devotees chant His glories. You need not go to India spending money. When time will be mature I shall ask you to go to Vrindaban and Krishna will give you some money on Dec. 29 for Krishna's service. It is a great opportunity. Organize the temple to your best capacity assisted by your sincere devotee wife. Krishna will bless you and make you happy in all respects. As soon as you call me I shall go to your place.
Hope you are well and thank you very much again for your sincere services to Krishna. Krishna's blessings are always with you.
Your ever well-wisher,