680116 - Letter to Brahmananda written from Los Angeles
From Vanisource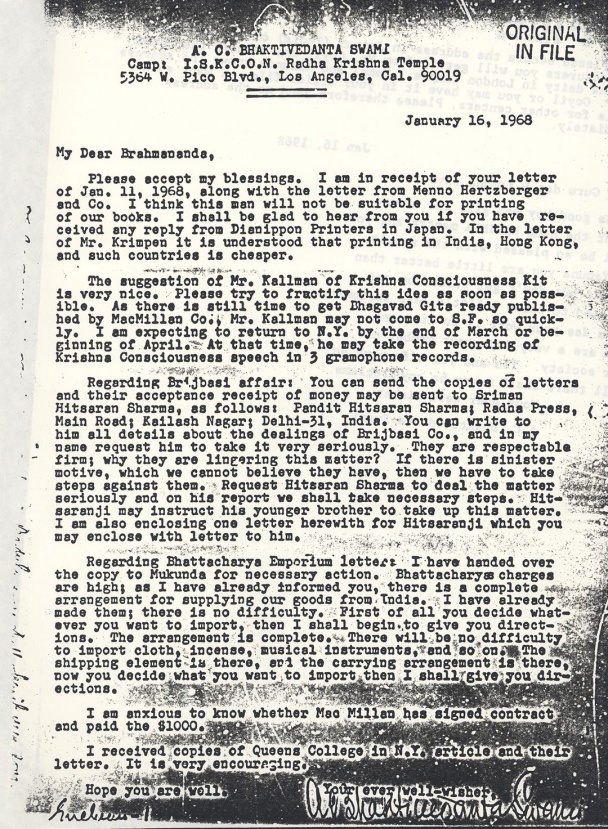 A. C. BHAKTIVEDANTA SWAMI
Camp: I.S.K.C.O.N. Radha Krishna Temple
5364 W. Pico Blvd., Los Angeles, Cal. 90019

January 16, 1968


My Dear Brahmananda,
Please accept my blessings. I am in receipt of your letter of Jan. 11, 1968, along with the letter from Menno Hertzberger and Co. I think this man will not be suitable for printing of our books. I shall be glad to hear from you if you have received any reply from Dianippon Printers in Japan. In the letter of Mr. Krimpen it is understood that printing in India, Hong Kong, and such countries is cheaper.
The suggestion of Mr. Kallman of Krishna Consciousness Kit is very nice. Please try to fructify this idea as soon as possible. As there is still time to get Bhagavad Gita ready published by MacMillan Co., Mr. Kallman may not come to S.F. so quickly. I am expecting to return to N.Y. by the end of March or beginning of April. At that time, he may take the recording of Krishna Consciousness speech in 3 gramophone records.
Regarding Brijbasi affair: You can send the copies of letters and their acceptance receipt of money may be sent to Sriman Hitsaran Sharma, as follows: Pandit Hitsaran Sharma; Radha Press, Main Road; Kailash Nagar; Delhi-31, India. You can write to him all details about the dealings of Brijbasi Co., and in my name request him to take it very seriously. They are respectable firm; why they are lingering this matter? If there is sinister motive, which we cannot believe they have, then we have to take steps against them. Request Hitsaran Sharma to deal the matter seriously and on his report we shall take necessary steps. Hitsaranji may instruct his younger brother to take up this matter. I am also enclosing one letter herewith for Hitsaranji which you may enclose with letter to him.
Regarding Bhattacharya Emporium letter: I have handed over the copy to Mukunda for necessary action. Bhattacharya's charges are high; as I have already informed you, there is a complete arrangement for supplying our goods from India. I have already made them; there is no difficulty. First of all you decide whatever you want to import, then I shall begin to give you directions. The arrangement is complete. There will be no difficulty to import cloth, incense, musical instruments, and so on. The shipping element is there, and the carrying arrangement is there, now you decide what you want to import then I shall give you directions.
I am anxious to know whether Mac Millan has signed contract and paid the $1000.
I received copies of Queens College in N.Y. article and their letter. It is very encouraging.
Hope you are well.
Your ever well-wisher,


Enclosure-1 [Handwritten]
P.S. Gargamuni is organizing a centre in Berkeley & we shall open it very soon. [unclear] [Handwritten]