680117 - Letter to Satsvarupa written from Los Angeles
From Vanisource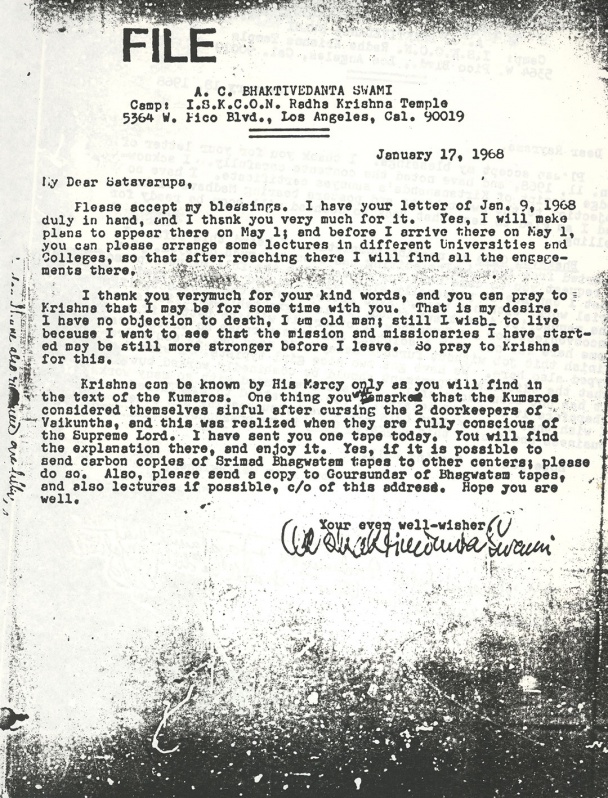 A. C. BHAKTIVEDANTA SWAMI
Camp: I.S.K.C.O.N. Radha Krishna Temple
5364 W. Pico Blvd., Los Angeles, Cal. 90019

January 17, 1968

My Dear Satsvarupa,
Please accept my blessings. I have your letter of Jan. 9, 1968 duly in hand, and I thank you very much for it. Yes, I will make plans to appear there on May 1; and before I arrive there on May 1, you can please arrange some lectures in different Universities and Colleges, so that after reaching there I will find all the engagements there.
I thank you very much for your kind words, and you can pray to Krishna that I may be for some time with you. That is my desire. I have no objection to death, I am old man; still I wish to live because I want to see that the mission and missionaries I have started may be still more stronger before I leave. So pray to Krishna for this.
Krishna can be known by His Mercy only as you will find in the text of the Kumaros. One thing you will [handwritten] mark that the Kumaros considered themselves sinful after cursing the 2 doorkeepers of Vaikuntha, and this was realized when they are fully conscious of the Supreme Lord. I have sent you one tape today. You will find the explanation there, and enjoy it. Yes, if it is possible to send carbon copies of Srimad Bhagwatam tapes to other centers; please do so. Also, please send a copy to Goursundar of Bhagwatam tapes, and also lectures if possible, c/o of this address. Hope you are well.