680527 - Letter to Brahmananda written from Boston
From Vanisource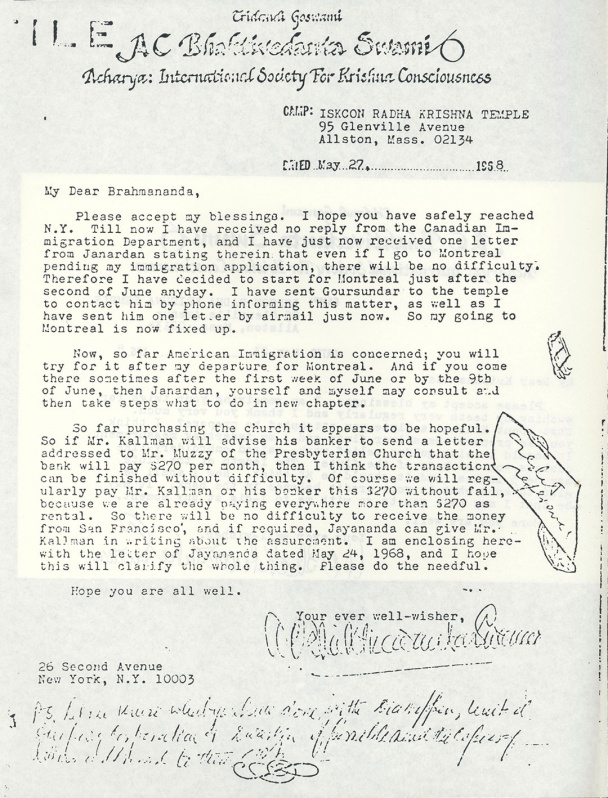 Tridandi Goswami
AC Bhaktivedanta Swami
Acharya: International Society For Krishna Consciousness

CAMP: ISKCON RADHA KRISHNA TEMPLE
          95 Glenville Avenue
          Allston, Mass. 02134
DATED ..May...27,........................1968..

My Dear Brahmananda,
Please accept my blessings. I hope you have safely reached N.Y. Till now I have received no reply from the Canadian Immigration Department, and I have just now received one letter from Janardan stating therein that even if I go to Montreal pending my immigration application, there will be no difficulty. Therefore I have decided to start for Montreal just after the second of June anyday. I have sent Goursundar to the temple to contact him by phone informing this matter, as well as I have sent him one letter by airmail just now. So my going to Montreal is now fixed up.
Now, so far American Immigration is concerned; you will try for it after my departure for Montreal. And if you come there sometimes after the first week of June or by the 9th of June, then Janardan, yourself and myself may consult and then take steps what to do in new chapter.
So far purchasing the church it appears to be hopeful. So if Mr. Kallman will advise his banker to send a letter addressed to Mr. Muzzy of the Presbyterian Church that the bank will pay $270 per month, then I think the transaction can be finished without difficulty. Of course we will regularly pay Mr. Kallman or his banker this $270 without fail, because we are already paying everywhere more than $270 as rental. So there will be no difficulty to receive the money from San Francisco, and if required, Jayananda can give Mr. Kallman in writing about the assurement. I am enclosing herewith the letter of Jayananda dated May 24, 1968, and I hope this will clarify the whole thing. Please do the needful.
Hope you are all well.

26 Second Avenue
New York, N.Y. 10003
P.S. Let me know what you have done with Dai Nippon, United Shipping Corporation & Dwarkin if possible send the copies of letters addressed to them, [handwritten]