680702 - Letter to Satsvarupa written from Montreal
From Vanisource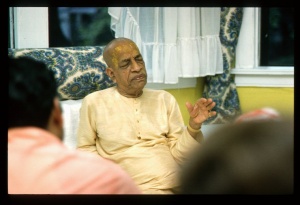 July 02, 1968

My dear Satsvarupa,
Please accept my blessings and offer the same to Jadurani & others. Jadurani may be informed that I have received her letter and shall reply her very soon.
In the meantime in my last letter I requested you to see the District Director Mr. J. A. Hamilton Jr. of the Boston office U.S. Immigration. (223-2361) You know that I have sent him one letter of June 11, 1968 per Regd Post No. 00619. It cannot be that he has not received my above letter but why he has not replied my letter please enquire. Please try to convince him that my presence in U.S.A. is essential because I have got to supervise at least 8 branches in U.S.A. I am qualified Religious Minister. I have got sufficient money to maintain myself without being a public charge and my health is fit as it is already examined by the public Health Department. Under the circumstance I am feeling that by denying my application on some technical ground only, of which I was not at all responsible, injustice has been done to me. I simply requested the District Director to give me the right direction for the next step so that I may be sure of my action. Please therefore see him and take a written reply to my letter date 11th June 1968. I am very much surprised that letters are not properly replied in such important office. Please therefore enquire in the matter and let me know why the letter is not replied which is so important in this case.
Hope you will do the needful and let me know the result immediately. Hope everything is well there.
Your ever well-wisher,
A.C. Bhaktivedanta Swami