680716 - Letter to Yamuna devi written from Montreal
From Vanisource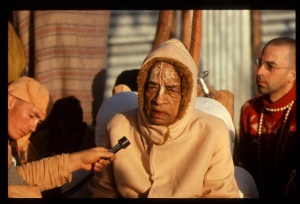 July 16, 1968

My Dear Yamuna devi,
Please accept my blessings. I thank you very much for your letter dated July 9, 1968, giving a vivid description of the Rathayatra festival. I understand that Mukunda and Janaki are now living with you, but I have not received any letter from them. Anyway, I understand that Mukunda is leading now a nice Kirtan party in the streets, and there is good response. The time is fast approaching when we will have to perform such public Kirtan in all the important cities of the world. Here also, in the Expo, they have performed Kirtan for two days, and it is wonderfully successful.
Your appreciation of the Rathayatra festival and realizing the beauty of Kirtan and Jagannatha as well as the magnanimity of Lord Chaitanya in His sublime teachings, are some of the wonderful things that I mark in your progressively advancement in Krishna Consciousness. Please try to continue this attitude and you will be more and more happy in your life, and at the end, get entrance into the association of Krishna. Chant Hare Krishna, both husband and wife, regularly, and worship Lord Krishna's Sri Murti, as you are doing, and try to elevate others in Krishna Consciousness as you are doing. These things are the right line of activities, and you must continue to do so.
Regarding London-yatra: I have written to your husband as well as to Shyamsundar which you will read and do necessary plans.
We are all keeping well here, and I hope the same is with you also, along with your God-brothers and God-sisters in San Francisco.
Your ever well-wisher,
A.C. Bhaktivedanta Swami