680817 - Letter to Jayananda written from Montreal
From Vanisource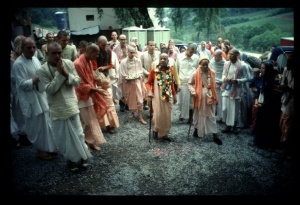 August 17, 1968

My Dear Jayananda
Please accept my blessings. I am in due receipt of your letter dated August 12, 1968 and I have noted the contents. I am as much anxious to go to San Francisco as you are always anxious get me to San Francisco, and receive me there. But immediately I never said to Pradyumna that I can go to San Francisco, so immediately do not arrange for renting any apartment, because I am contemplating on going to Vancouver. It is not yet settled, but there is chance of my going there and I wish to go to San Francisco from there. Yes I have inquired from Govinda dasi that she and her husband can utilize the half ticket facility, so when I settle to go, certainly I shall ask you to send me the necessary money and I am so pleased that you are always ready to send us the required money and return back to San Francisco. In the meantime, please go on as usual, and I am so pleased to learn that the Patels are taking great interest in our temple affairs. Please convey by blessings to all the boys and girls there.
Last night we had very nice performance of Janmastami ceremony and all the San Francisco devotees and some of the New York devotees including Uddhava are all now present here. The Indian public here also took great interest in this program this year. And today they are performing both the Vyasa Puja and Nandotsav ceremony.
Regarding Murli Manohar Murti, I understand that the Patels are ready to present silver Murti, but we cannot worship Murli Manohar alone, without being accompanied by His most favorite consort Radharani. You know that we worship Radha's Krishna. We should always understand that Krishna is sold to the loving service of Radha, therefore Krishna cannot be alone. And the Gaudiya Vaisnavas they want to see Krishna as Radha's property. Therefore, if Mr. Patel can present a Pair of Radha Krishna Murti, not less than 18" in height, never mind even They are made of yellow brass metal, that will be very nice. And if They are made of silver, that is still more nice. And it will be my great pleasure to install the Murtis in the temple as soon as They are ready. If it is possible to rent a bigger place for our temple, even without possessing the same as our property, I think that will be a great facility. I understand that new men are now coming in the temple. You may consult with the Patels about this and do the needful. Thank you all very much for your doing nicely in San Francisco.
Yesterday, Mukunda and Gurudasa were telling me that the man known as Asoka Fakir, now living in San Francisco, is advertising himself that the members of our temple are all his disciples. This man has written me letter also, from which I can understand that he is a hodge-podge man. He is not a pure devotee of Krishna, neither his behavior is quite up to the standard. Therefore you should warn all our devotees not to mix with this man very intimately.
Hope you are all well.
Your ever well-wisher,
A.C. Bhaktivedanta Swami