680819 - Letter to Brahmananda written from Montreal
From Vanisource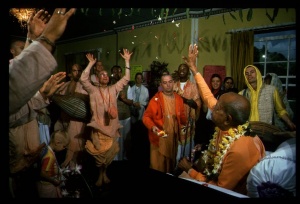 August 19, 1968

My Dear Brahmananda,
Please accept my blessings. I was duly in receipt of your letter dated 13rd August, 1968, and noted the contents carefully. The London party led by Mukunda and Syamasundara are going today to New York, and from there they will start for London. Please offer them good wishes and a nice send-off so that they can safely reach there and make an attempt for starting a nice temple there. So far Sivananda's affair is concerned, I have asked Mukunda to write to him and he will do the needful, or you can talk with him. And regarding the meeting for future constitutional form of our society, actually it is now needed. So immediately I may not be able to go and meet and they are also in hurry for going to London, but because they will stay for a few days in New York, you can hold a preliminary meeting between yourself, Rayarama, Syamasundara, Mukunda, and if possible, call Rupanuga, Satsvarupa, Kirtanananda Maharaja, because they are nearer. Your suggestion for a committee. and the names you have suggested, just like Jayananda, Subala, Gargamuni, yourself, Rupanuga, Satsvarupa, Kirtanananda, Dayananda, is very nice. In this also, I think Mukunda's name should be also added. Anyway, you can hold a preliminary meeting and make a draft. Then we shall ratify it in our next meeting when I may be also able to participate and do it finally.
Your prayer to Nrsimhadeva is acting, because I am improving. When I came to USA in December, I feel I am much improved than the position in which I reached USA. And possibly I can improve more and more, and if Krishna desires, I may be able to work with renewed vigor, although I have stepped on the state of 73 years of my life.
The other day there was nice Janmastami festival, and many Indians participated in the ceremony and they had very good collection. The meeting was very successful. The next day also they held Nandotsav and Vyasa Puja ceremony. That was also very nice. Last night, on Sunday, there was marriage ceremony of Satyabhama and Paramananda. Their parents also came, and it was very nice ceremony.
By the by, I beg to inform you that I have applied for immigrant visa for USA also, and in that connection, I have submitted one letter of appointment signed by Purusottama and by you with my permission here. Similarly, you can send me a letter reading as follows: The letter should be addressed to the Consulate General of the United States of America, 800 Place Victoria, Montreal 3, Quebec, Canada, and the reading matter should be as follows: "Sir, I the undersigned president of the Inter. Soc. for KC beg to state that Swami AC Bhaktivedanta is the appointed Acarya (chief minister of religion) of this institution. This institution is incorporated in NY under the Religious Act number such and such and it has got the following branches all over the country.
Mention herein all the 6 branches in USA, namely NY, NM, Boston, SF, Buffalo, LA.
"His presence is very urgently required to transact the religious activities of all the centers, and the society is pleased to provide him for all his expenditures, in the matter of living, expenses, traveling expenses, and the publication of his books. His books are already selling very nicely and one of his books is being published by Mssrs. MacMillan Co. and so personally he has also a nice income, besides from our contribution for his maintenance. So in all circumstances, he will never be public charge. His services are profoundly needed by this religious denomination in the US and he will be simply carrying out the occupation of a minister of this religious institution.
So you send me the above letter signed by you as president along with the photostat copies of certificates which you may have in NY. I have got the original, so if you have not got photostat copies then I shall have to get them here. While signing, just stamp our society's seal which you have got with you.
I have given instruction to Yamuna to write one certificate form and in that connection she may require to see the seal dimension so if she wants to see, you can show or give her an impression of the seal.
Hope you are all well
Your ever wellwisher
ACB
PS. As Jaya Govinda is working on behalf of the Society, I think the letter of guarantee which he has asked for may be sent. What about the Mrdangas and Harmonium from Dwarkin and what about the United Shipping Corp?
Is Kallan affair settled up?