680819 - Letter to Gargamuni written from Montreal
From Vanisource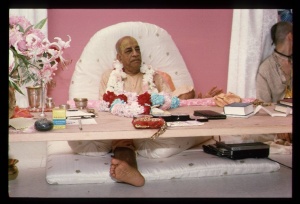 August 19, 1968

Vancouver
My Dear Gargamuni,
Please accept my blessings. I am in due receipt of our letter dated August 13, 1968, and in the meantime I have also addressed one letter to Upendra, as well as to Mr. Renovich,* asking for the passage money to go to Vancouver, but I have received neither any letter nor any passage money from either of them. Under the circumstances, I can understand that the situation in Vancouver is not favorable for starting a center there immediately, so we can stop that attempt, and you may do the needful. But anything you do, that means starting a center must be first of all estimated that we must be able to continue it. Otherwise, rather we should not open a center in any place. Whatever centers we have already started that must be maintained. The London party is going to New York today, and from there they will start for London, as soon as possible. That center is immediately necessary, because we have no center in Europe. Anyway don't be worried if the Vancouver situation is not good; stop the idea, and you may go back to USA, as it is already suggested.
Hope you are both well, and be careful of your health. And don't be worried. Thanking you once more for your kind letter.
Your ever well-wisher,
A.C. Bhaktivedanta Swami
* Having not received any reply from either of them. I am doubtful whether they have not received my letters. Kindly inquire what is the matter and let we know.