680822 - Letter to Jayananda written from Montreal
From Vanisource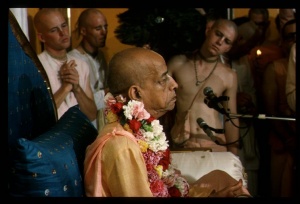 August 22, 1968

My Dear Jayananda,
Please accept my blessings. I beg to acknowledge receipt of your note, along with the forms. And I thank you very much for this. The forms are already fingerprinted because on inquiry it was found in the American Consulate here, so I have done the necessary fingerprints and submitted to them. And let us see what happens. But I understand that you can get a personal certificate from the police officer or the police station nearby, if it is possible, get it. That will help us very much. And you may know that London party has already left Montreal and they are in New York, and from there sometimes within this week they will go to London.
I understand from various sources that our San Francisco center under your good leadership is going on very nicely; I thank you for your such transcendental activities, and Krishna will be certainly very much pleased and give you more and more strength to understand Krishna Consciousness and make advancement in that line.
I also beg to acknowledge receipt herewith of your letter dated July 13, 1968, which was not delivered so long due to mail strike. And you enclosed in that letter a check for $75.00 which has been duly received. Regarding Tamala Krishna, I have replied separately, I understand from different sources that he is doing very wonderfully. And he has become a great assistant to you. It is all Krishna's Grace. Please ask him to enhance the Sankirtana party more and more, and then the whole San Francisco city will be followers of our Krishna Consciousness movement. It is so pleasing that more and more boys are joining the Krishna Consciousness movement and I wish that the whole group known as the hippies may take advantage of this movement, and make their life very successful.
I have received one letter from Vinode Patel also, and it is understood that he is living in Berkeley School, and I am replying him separately. He appears to be sincere boy.
Thank you once more for your kind letter, and I beg to remain
Your ever well wisher,
A.C. Bhaktivedanta Swami