680824 - Letter to Nandarani written from Montreal
From Vanisource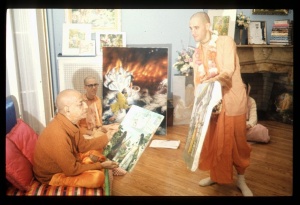 August 24, 1968

My Dear Nandarani,
Please accept my blessings. I received your letter dated July 11, 1968, very late on account of the postal strike and it was included with your husband's letter, and I've read it carefully. And your attempt to serve the cause of the society and my mission is very much appreciated by me. Please go on serving the cause of Krsna Consciousness as far as possible, and try to execute the routine work of chanting. Both of you are fortunate that you are conjointly prosecuting Krsna Consciousness, and Krsna will be very much pleased to bestow His blessing more and more upon both of you. I hope your child Candramukhi is doing well and I shall be glad to hear more from you in your next letter.
Regarding visa: I think there is no worry about it; it will be settled within a very few days, and I shall have no difficulty for going or coming in the United States. I have already written to Dayananda about the Florida affair; you have also mentioned, so if that piece of land you will utilize for Krsna Consciousness purpose, it will be a further achievement for the society.
So far your adopting me as father or child is the same thing, because child is the father of man. And the father is the old child of his grown-up sons and daughters.
I hope you and your nice daughter are well, and I remain
Your ever well-wisher,
A.C. Bhaktivedanta Swami