680828 - Letter to Hitsaran Sharma written from Montreal
From Vanisource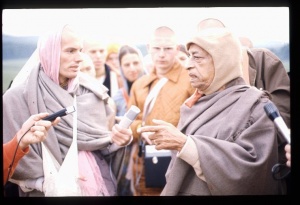 August 28, 1968

Sriman Hitsaran Sharma
c/o Dalmia Enterprises
Number 4, Scindia House
New Delhi, India
My Dear Hitsaranji,
Please accept my blessings. Since a very long time I did not hear from you, and I do not know why you are silent. In the meantime, I was given to understand that you are going to deposit Rs. 2000/- within 20th of August, 1968. I have not received any news whether you have deposited the money or not, but one thing is very urgent, that I have to immediately pay to Omkar Press for starting the work. I am surjoining herewith the copy of the letter which I received from the Omkar Press, as late as on the 25th July, 1968, but I could not pay him because I did not hear from you. But I wish to begin the work immediately. I handed over the printing work to you, with expectation that you will do it nicely, but you find it difficult to do it, so please do not detain me any further, for making progress in the printing work. I hope you will kindly reply this letter and let me know whether you have deposited the about Rs. 2000/- in my bank account. If you find it difficulty to pay at a time, so you can immediately pay to Omkar Press directly or deposit in the bank at least Rs. 1000/- so that the printing work may not be detained.
Another thing, regarding Deities: I understand from Jaya Govinda's letter that Sethji wants to contribute two Pair of Deities provided the freight is paid by somebody else. So I agree to this proposal. Kindly arrange to send at least two Pairs of Radha Krishna Deities, brass, as per specification given to you before.
By the by, also let me know whether you have received 5 gramophone records, which I sent to the address of Sethji, about 3 months ago. I am very anxious to know about you. And also I shall be glad to hear how you and your family are doing. Kindly reply this letter per return of post, and oblige.
Your ever well-wisher,
A.C. Bhaktivedanta Swami