681009 - Letter to Dayananda written from Seattle
From Vanisource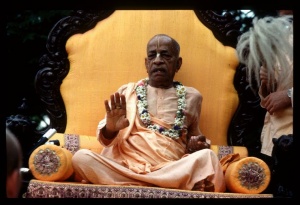 October 09, 1968

Dear Dayananda,
Please accept my blessings. I am in due receipt of your letter and noted the contents. In reply, I may inform you that I have got very good appreciation for you and your good wife, Nandarani, as well as for Aniruddha. I can understand that Nandarani is little displeased with Aniruddha, but I think this is a family quarrel between brother and sister, and you may try to mitigate it. If it is not possible to mitigate, then I shall ask Aniruddha to leave and join the Sankirtana party, who are going very shortly in Los Angeles. I am sorry to learn that you have to remove for the present station, on account of displeasure of the landlord and the tenants. All right, Krishna will give us better opportunity. I am very pleased to learn that you have taken complete charge of the Los Angeles center, and do it very nicely, and if Aniruddha is a displeasure to Nandarani I will ask him to join the Sankirtana Party who are going there within 10 or 12 days. In the meantimes, if possible, you try to mitigate this misunderstanding of brother and sister.
Mr. Fugate in Florida has refused to accept Mahapurusa das Brahmacari who reached there yesterday. Most probably he will come back or he may go to Hawaii to join Gaurasundara there. In fact I wish that our students, husband and wife may take charge of each center, as you have taken charge with the Los Angeles center. I am trying to entrust the Hawaii center to Gaurasundara and his wife Govinda dasi, assisted by brahmacaris and other householders also, most probably Murari and Lilavati will go there. So we are trying to organize a nice center in Hawaii.
It may be I shall go with the Sankirtana Party to Los Angeles, and from Los Angeles to Hawaii, if I do not go to Europe where my going is not yet fixed up.
Please offer my blessing to Nandarani and your little child, and also Aniruddha, and I beg to remain,
Your ever well wisher,
A.C. Bhaktivedanta Swami