681121 - Letter to Joy Fulcher written from Los Angeles
From Vanisource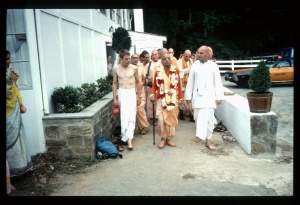 November 21, 1968

My Dear Joy Fulcher,
Please accept my blessings. I beg to acknowledge receipt of your nice letter with some poems, as well as a nice picture of Radha and Krishna, by separate mail. Unfortunately, in transit the glass is broken into pieces, but still I have kept your picture in my working room, and everyone praises your artistic sense. It is very nice. I am very glad to learn also that you are attempting to paint similar pictures in larger size, that is very good idea. You have got some poetic sense also, and all these talents, the artistic sense and poetic sense, can be engaged in the service of Krishna. All devotees are more or less poets. Out of 26 qualifications of a perfect devotee, one is poetic sense. So we can write so many poetries in praise of the Lord, or about His pastimes. Similarly we can draw so many nice pictures about His different activities, and such engagements will give us chance to elevate ourself to the perfectional platform of spiritual understanding.
By Grace of Krishna I am keeping well nowadays, but Govinda dasi is not keeping very well. As she has to go to Nandarani's house and again come, so it is a little troublesome so she is a little sick. But by Grace of Krishna everything will be all right. Please offer my blessings to all the devotees there, especially Harsarani, who I understand is cooking very nicely for the love feast. She is a nice decorator of the Deity and a nice cook also for preparing Krishna Prasadam.
Hope you are all well,
Your ever well-wisher,
A.C. Bhaktivedanta Swami