681201 - Letter to Jayapataka written from Los Angeles
From Vanisource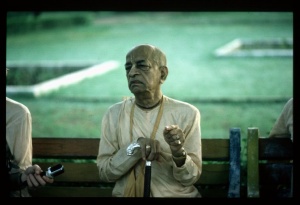 December 01, 1968

My Dear Jayapataka,
Please accept my blessings. With much satisfaction I have read your letter of November 24, 1968 and I thank you very much for this. From it I can understand clearly that you are making nice progress in your devotional service attitude. Your sincere and humble outlook is very nice. I am always praying to Lord Krishna to bestow His Causeless Mercy upon you.
So far the phenomenon which you have questioned me about, I think that it is all Krishna's Grace because you are sincerely working for spreading His Cause. You needn't disclose this phenomenon to everyone, you have disclosed to me and that is sufficient. But you may know that it is a good sign. Continue to work sincerely and you shall be blessed in this life, there is no doubt.
Regarding the money which you shall soon attain, I think that the book fund may use it very well as we have so many new expenditures due to our new books, Bhagavad-gita As It Is (already published) and Teachings of Lord Caitanya (to be published next month). So if you can send this money to me it will be very nice. Also, when these books arrive to your Montreal temple, it will be great service if you can help your god-brothers in arranging for widespread sales of these books. We are writing so many literatures and this is very good, but also we must make arrangement for distribution to the public at large. So jointly you may prepare for doing the needful in this matter.
Once again, I thank you for your encouraging letter and I hope you are all well.
Your ever well wisher,
A.C. Bhaktivedanta Swami