681209 - Letter to Upendra written from Los Angeles
From Vanisource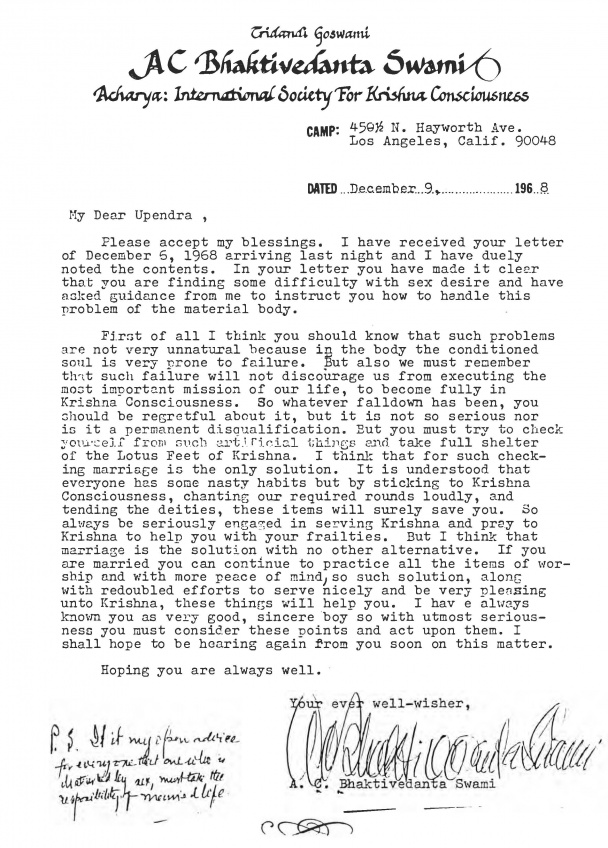 Tridandi Goswami
AC Bhaktivedanta Swami
Acharya: International Society For Krishna Consciousness
CAMP: 4501/2 N. Hayworth Ave.
          Los Angeles, Calif. 90048

DATED ..December...9,..................196..8

My Dear Upendra,
Please accept my blessings. I have received your letter of December 6, 1968 arriving last night and I have duly noted the contents. In your letter you have made it clear that you are finding some difficulty with sex desire and have asked guidance from me to instruct you how to handle this problem of the material body.
First of all I think you should know that such problems are not very unnatural because in the body the conditioned soul is very prone to failure. But also we must remember that such failure will not discourage us from executing the most important mission of our life, to become fully in Krishna Consciousness. So whatever falldown has been, you should be regretful about it, but it is not so serious nor is it a permanent disqualification. But you must try to check yourself from such artificial things and take full shelter of the Lotus Feet of Krishna. I think that for such checking marriage is the only solution. It is understood that everyone has some nasty habits but by sticking to Krishna Consciousness, chanting our required rounds loudly, and tending the deities, these items will surely save you. So always be seriously engaged in serving Krishna and pray to Krishna to help you with your frailties. But I think that marriage is the solution with no other alternative. If you are married you can continue to practice all the items of worship and with more peace of mind, so such solution, along with redoubled efforts to serve nicely and be very pleasing unto Krishna, these things will help you. I have always known you as very good, sincere boy so with utmost seriousness you must consider these points and act upon them. I shall hope to be hearing again from you soon on this matter.
Hoping you are always well.
Your ever well-wisher,



A.C. Bhaktivedanta Swami

P.S. It is my open advice for everyone that one who is disturbed by sex, must take the responsibility of married life [handwritten]