681211 - Letter to Nandakisora written from Los Angeles
From Vanisource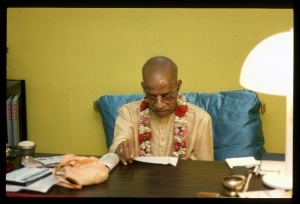 December 11, 1968

My Dear Nandakisora,
Please accept my blessings. I beg to acknowledge receipt of your nice letter of December 5, 1968 and thank you very much for this. From your letter I can understand that you are anxious to become householder and this is very good. We require so many householders to set example to others how in Krishna Consciousness we can live peacefully and sanely, even in married life. Also, we require so many Krishna Conscious children to show how nicely and beautify a child can develop when he is following the principles of God Consciousness.
So your decision is very good, but at the moment we have many girls and either too young or they are engaged or they are too old. There are a few nice girls who are available, specifically Tulsi Devi and Anna Radha Devi but both of them also have little babies and Tulsi Devi is, I think, a little older than you are. So if you like we may ask these girls if they are just now desirous of marrying. Or else you may wait for an eligible girl who I am not thinking of, or who will show up soon, so as soon as she shows up we shall make arrangements in this regard.
Also, we are planning to open a school for teaching our Krishna Conscious children and I understand Satyabhama Devi has some qualifications as a teacher. This school may be set up either in New Vrindaban or Los Angeles so please ask her to tell me about her teaching qualifications and she thinks of this idea.
Please convey my blessings to all devotees there, especially Paramananda, Dayala Nitai and Satyabhama whom I have not heard from in some time. I hope this finds you all in good health.
Your ever well wisher,
A.C. Bhaktivedanta Swami