681213 - Letter to Jadurani written from Los Angeles
From Vanisource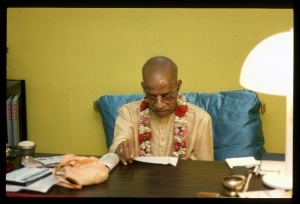 December 13, 1968

My Dear Jadurani,
Please accept my blessings. I have received your letter of December 9, 1968 and have noted the contents.
Regarding the material for canvas protection I think that there is a tar which is made from coals* which may be used. Or else if this is not available or cannot be used then you may use any material which will do the job nicely.
I have just received a copy of Back To Godhead number 21 and please convey my appreciation to Satsvarupa for his excellent article of Lord Ramacandra. Such articles give enjoyment and spiritual benefit to all readers so he should do more of such writing as he is able.
As soon as possible, I will require some artist who will paint pictures from the Bhagavatam as I give hints on what to paint. But the artist must be very quick. Two or three pictures must be done every week. These pictures will be used for my new book, "KRISHNA", which I will begin as soon as I get the assistance of a quick painter. I am sure that you could do this but you are already engaged with so much work. There is one girl in Seattle, Joy Fulcher, who is nice artist. Would you like her to go to you to do this work under your guidance? I think that you know this girl. If you think this idea is alright, you can call her at Boston. As usual, I shall send "KRISHNA" tapes to your husband with hints for you about the pictures so you and your husband can send me the complete materials for the final printing. Please consider these suggestions and do the needful.
Kindly convey my blessings to Devananda, Saradia and Rukmini. I hope you are all well.
Your ever well-wisher,
A.C. Bhaktivedanta Swami