681217 - Letter to Mr. Chagan Govinda written from Los Angeles
From Vanisource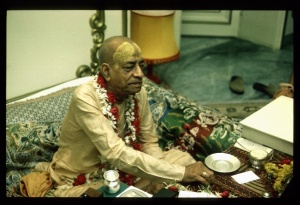 December 17, 1968

Chagan Govinda
74 Arodene Road
London S.W.2.
Dear Mr. Govinda,
Please accept my blessings. I beg to acknowledge receipt of your very kind letter of December 3, 1968 along with three omkar buttons. I thank you very much for these.
In the Bhagavad-gita, this omkar is mentioned as being the sound representation of Krishna, the Supreme Personality of Godhead. Similarly the Hare Krishna Mantra is also the sound representation of Krishna. So, practically we do not make any distinction between the omkar and Hare Krishna but the spiritual path is to follow the footprints of the path of the great acaryas. Lord Caitanya encouraged the Sankirtana Movement, or the chanting of Hare Krishna, as the means for God realization for this age and it is in pursuance of the revealed scriptures.
Actually this movement is now becoming very popular in the Western countries. Our followers in the West are neither Hindus nor belonging to any principle sect following the Vedas but, by Krishna's Grace, they are accepting this very nicely. Some of them are very advanced as you might have seen from the characteristics of our devotees in London.
I was very pleased to read how these students were very well received by your organizations there. Please extend my thanks to all concerned for cooperating with my students in London. Thanking you once more for your interest and I hope to hear again from you soon.
Yours very sincerely,
A.C. Bhaktivedanta Swami