690115 - Letter to Syamasundara written from Los Angeles
From Vanisource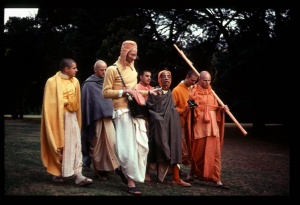 January 15, 1969

My Dear Syamasundara Prabhu,
Please accept my humble dandabats. I understand from a letter of Upendra Brahmacari in Seattle that you have inquired about me from him after your return from Vrindaban. I welcome your suggestion to open a branch of our Iskcon society in Bombay, and you want to help me in this connection. There are two of my disciples in Vrindaban. I do not know if you met them while you were there, and I am awaiting for their letters because one of them was recently advised to go to our German center in Hamburg. Please, therefore, let me know of your suggestions how to open a branch of our Iskcon society in Bombay. If it is possible to get a place free of charge for holding kirtana and discussing on the Bhagavad-gita in some quarter where there are mostly English-speaking people, that will be very much convenient. So if you can find out some suitable place for holding English classes along with short kirtanas please let me know immediately. While expecting your good suggestions of what to do in this matter I am also thinking of it and will let you know in my next letter.
I understand that Sripada Prabhupada das Brahmacari is in correspondence with Upendra das Brahmacari in Seattle. May I know who is this brahmacari? If we open a branch in Bombay is he willing to join us there? But I am sure some of the brahmacaris from various centers in India will join us if we open a branch in Bombay.
Regarding the mrdangas, certainly you have already given me some quotations but it is better to take fresh quotations in your next letter. It is understood that your books are already received in New York, and Brahmananda das Brahmacari is in charge. I shall advise him to send you the money soon. Do you think the money order should be sent to your present address? Upon hearing from you I shall do the needful in this matter of sending the money to you. I hope this finds you in good health.
Yours affectionately,
A.C. Bhaktivedanta Swami