690201 - Letter to Uddhava written from Los Angeles
From Vanisource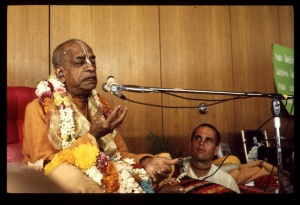 February 01, 1969

My Dear Uddhava,
Please accept my blessings. I am in due receipt of your letter of January 30, 1969, and I have noted the contents carefully. You have written to say that 8 people will be working under Rayarama and another 8 people will also be there in the printing department, including the baby, Nandini. So even if we are able to get accommodations for all of these people, what is the program for maintenance? These people will require at least $200.00 per month for food, so tell me immediately if you have got any scheme how to get this money for maintenance.
So far as accommodations are concerned, Hayagriva has given me information that there is a nice two-story house where both the press and the workers can be accommodated. The rent is only $260.00 per year. I think this house should immediately be occupied so we can gradually begin our work and also construct other structures with the help of Nara Narayana and others. So Hayagriva is prepared to invest money for the press, accommodations are there provisionally. Now if you have any definite program for meeting your maintenance expenditures we can begin the press work immediately. If the house is there and our workers are ready, then what is the difficulty of starting the press immediately? If this house turns out to be not suitable we will have to construct another, but in either case the problem is still there of maintenance. Everything must be practically thought out, and please tell me what yourself and Advaita are planning with this.
Thanking you once more for your letter, I hope to hear from you again very soon. Hope this will meet you in good health.
Your ever well-wisher,
A.C. Bhaktivedanta Swami