690212 - Letter to Satsvarupa written from Los Angeles
From Vanisource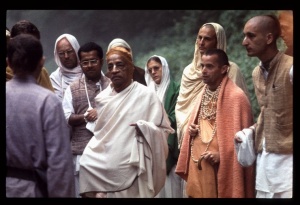 February 12, 1969

My Dear Satsvarupa,
Please accept my blessings. I am in due receipt of your letter dated February 7, 1969, and I have noted the contents. Regarding Jadurani's diet, let her take fruits, vegetables, milk, capatis, and also when she is hungry she may take a little rice and some thin mung dahl. Please keep me informed of her progress.
Regarding your idea of having an installation ceremony for the Deities, it is very good suggestion, and you may also have the sacrificial fire. The Deities should be bathed with milk, and while bathing, They must have covering of thin cotton cloth, and the whole Body and the clothing should be wet by pouring the milk. You can see the picture of this in the new Back To Godhead, and perhaps you saw the ceremony when it was held in New York. The Deities should be decorated with sufficient flowers and nice gorgeous dresses and ornaments. Beforehand, you should polish the Bodies with a mixture of tamorind pulp and fullers earth. Apply the pulp on the Bodies, then rub it and then polish nicely with tissue paper. This will gave a very good shine. Then bath the Deities with milk, and dress very nicely with ornaments, and place Them on the throne with flowers, candles, etc. The throne, if possible, should be coated with silver sheets, and the canopy should be red velvet with gold embroidered work. Before the Deities, on the staircase, there may be some silver polished cups, pitchers, etc. I think the Deities have already helmets and peacock feathers and hair to be dressed with. If not, make arrangements for this also. I do not know how big is the throne, but if it is very big, then within the throne there may be a raised seat to accommodate the Deities. On the whole, everything should be very gorgeous; then it will be successful.
Actually, although Radha-Krishna is worshiped in Vrindaban which is like a simple village, but we worship Laksmi-Narayana, and the worship is accepted by the Radha-Krishna Deity. Actually, in our present status, we can not worship Radha-Krishna. But as all the Visnu Murtis are situated in Krishna, therefore, our Radha-Krishna worship is transferred to Visnu, Lord Narayana. Visnu worship is the regulative devotional principles, and Radha-Krishna worship is spontaneous service of eternal feelings. Therefore, as Laksmi-Narayana is the Deity of great opulences, similarly our Radha-Krishna Murtis also should be worshiped with great pomp and dignity. Krishna will give you the proper intelligence to do this very nicely. So far as prayers, you may sing Hare Krishna, Govinda Jaya Jaya, and Govindam Ādi purusam.
[TEXT MISSING]