690219 - Letter to Prabhas Babu written from Los Angeles
From Vanisource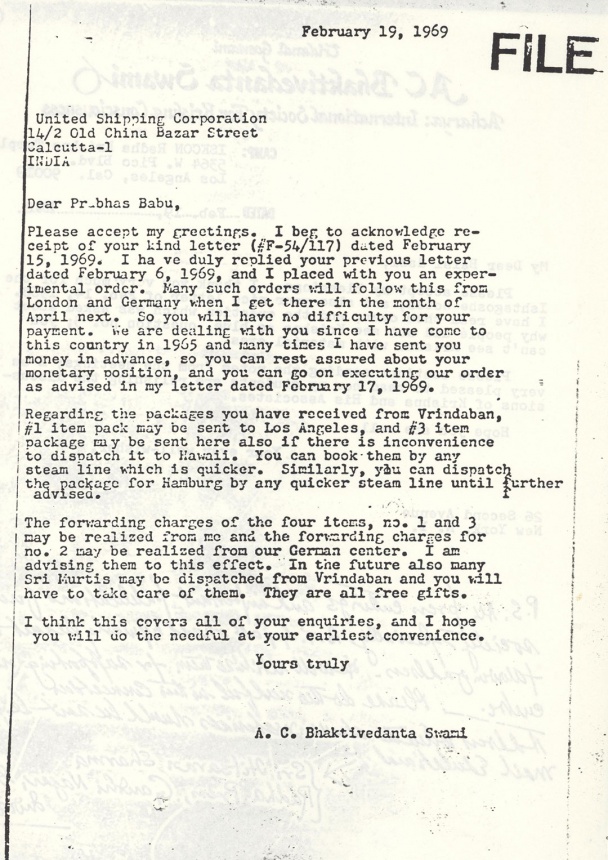 February 19, 1969
United Shipping Corporation
14/2 Old China Bazar Street
Calcutta-1
INDIA
Dear Prabhas Babu,
Please accept my greetings. I beg to acknowledge receipt of your kind letter (#F-54/117) dated February 15, 1969. I have duly replied your previous letter dated February 6, 1969, and I placed with you an experimental order. Many such orders will follow this from London and Germany when I get there in the month of April next. So you will have no difficulty for your payment. We are dealing with you since I have come to this country in 1965 and many times I have sent you money in advance, so you can rest assured about your monetary position, and you can go on executing our order as advised in my letter dated February 17, 1969.
Regarding the packages you have received from Vrindaban, #1 item pack may be sent to Los Angeles, and #3 item package may be sent here also if there is inconvenience to dispatch it to Hawaii. You can book them by any steam line which is quicker. Similarly, you can dispatch the package for Hamburg by any quicker steam line until further advised.
The forwarding charges of the four items, no. 1 and 3 may be realized from me and the forwarding charges for no. 2 may be realized from our German center. I am advising them to this effect. In the future also many Sri Murtis may be dispatched from Vrindaban and you will have to take care of them. They are all free gifts.
I think this covers all of your inquiries, and I hope you will do the needful at your earliest convenience.
Yours truly
[unsigned]
A.C. Bhaktivedanta Swami