690322 - Lecture Excerpt - Hawaii
From Vanisource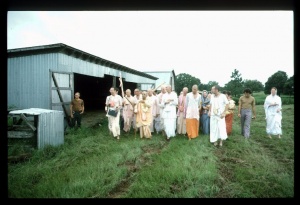 Listen to a 'Nectar Drop' created from this lecture
690322LE-HAWAII - March 22, 1969 - 06:37 Minutes

Prabhupāda:
oṁ ajñāna-timirāndhasya
jñānāñjana-śalākayā
cakṣur unmīlitaṁ yena
tasmai śrī-gurave namaḥ
tapta-kāñcana-gaurāṅgi rādhe vṛndāvaneśvari
vṛṣabhānu-sute devi praṇamāmi hari-priye
śrī-caitanya-mano-'bhīṣṭaṁ
sthāpitaṁ yena bhū-tale
svayaṁ rūpaḥ kadā mahyaṁ
dadāti sva-padāntikam
vande 'haṁ śrī-guroḥ śrī-yuta-pada-kamalaṁ śrī-gurūn vaiṣṇavāṁś ca
śrī-rūpaṁ sāgrajātaṁ saha-gaṇa-raghunāthānvitaṁ taṁ sa-jīvam
sādvaitaṁ sāvadhūtaṁ parijana-sahitaṁ kṛṣṇa-caitanya-devaṁ
śrī-rādhā-kṛṣṇa-pādān saha-gaṇa-lalitā-śrī-viśākhānvitāṁś ca
nama oṁ viṣṇu-pādāya kṛṣṇa-preṣṭhāya bhū-tale
śrīmate bhaktisiddhānta-sarasvatīti nāmine
śrī-vārṣabhānavī-devī-dayitāya kṛpābdhaye
kṛṣṇa-sambandha-vijñāna-dāyine prabhave namaḥ
śrī-kṛṣṇa-caitanya
prabhu-nityānanda
śrī-advaita gadādhara
śrīvāsādi-gaura-bhakta-vṛnda
hare kṛṣṇa hare kṛṣṇa
kṛṣṇa kṛṣṇa hare hare
hare rāma hare rāma
rāma rāma hare hare
jayatāṁ suratau paṅgor
mama manda-mater gatī
mat-sarvasva-padāmbhojau
rādhā-madana-mohanau
dīvyad-vṛndāraṇya-kalpa-drumādhaḥ-
śrīmad-ratnāgāra-siṁhāsana-sthau
śrī-śrī-rādhā-śrīla-govinda-devau
preṣṭhālībhiḥ sevyamānau smarāmi
śrīmān rāsa-rasārambhī
vaṁśīvaṭa-taṭa-sthitaḥ
karṣan veṇu-svanair gopīr
gopī-nāthaḥśriye 'stu naḥ
he kṛṣṇa karuṇā-sindho
dīna-bandho jagat-pate
gopeśa gopikā-kānta
rādhā-kānta namo 'stu te
tapta-kāñcana-gaurāṅgi
rādhe vṛndāvaneśvari
vṛṣabhānu-sute devi
praṇamāmi hari-priye
vāñchā-kalpatarubhyaś ca
kṛpā-sindhubhya eva ca
patitānāṁ pāvanebhyo
vaiṣṇavebhyo namo namaḥ
So Prahlāda Mahārāja is considering that, "Although I am a child, I have no education, my parentage is not at all bona fide, still, devotional service is unconditional. Devotional service does not depend on any material qualification. Therefore I shall try to offer my prayers to the Supreme Lord according to my capacity" Bhāva-grāhī janardana.
Prayers of the devotees to the Lord does not depend on how far you are educated or . . .
What is that sound?
(break) ". . . can pick me up and fix me up on Your lotus feet."
This very much expression of feeling is sufficient, as Lord Caitanya taught us. Everyone can express this feeling. Ayi nanda-tanuja patitaṁ kiṅkaraṁ māṁ (CC Antya 20.32, Śikṣāṣṭaka 5).
Kiṅkaraṁ, I am Your eternal servant. These things have to be accepted. One has to realize his constitutional position. That is self-realization. What I am? I am not the supreme. This is wrong. I am subordinate. This is the Vedic injunction. God is one, and He is great, and all living entities are subordinate.
They are maintained by God. There are millions and trillions of, without any limit of numerical strength, living entities all over the universe, and they are being maintained by the Supreme Lord. That is admitted in every scripture of the world, recognized religious scripture.
It is causing disturb. You can stop. (break) (end)