690425 - Letter to Govinda dasi and Gaurasundara written from Boston
From Vanisource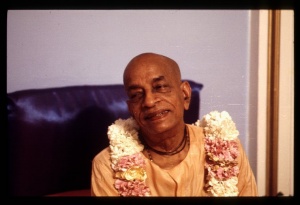 April 25, 1969

My Dear Govinda Dasi and Gaurasundara,
Please accept my blessings. I am in due receipt of your letters dated April 17, 1969, and I have noted the contents carefully. I am very much anxious that Govinda Dasi has fallen sick. Similarly, I am also from yesterday feeling little uncomfortable on account of backache. I think the constant change of climate in Buffalo has affected my rheumatic tendencies, so today I am not feeling very well. In Buffalo we had very nice meetings, and the students, both boys and girls, were very receptive. I am so glad to learn that your center also is improving. Day by day continue to work seriously and faithfully, and it will surely grow to be a very nice center. I have talked with Jadurani yesterday, and she asked my opinion of her going to Hawaii. I advised her to go as soon as possible, and she has proposed to go there when I leave Boston. She is not very seriously ill, but she feels little ill, and with change of climate I think she will improve without any doubt.
I am very glad to learn that Kartamasi is now very nicely dressed. Govinda Dasi is surely a good artist, so I am sure Kartamasi is very attractive. Please offer my obeisances to Him. I am very glad to learn from both of your letters that Jill is now staying there. She is very nice girl and intelligent. So the addition of Balabhadra and Jill to our movement is very much appreciated. Please help them to be Krishna Conscious, and it will be great service to Krishna, and you will enhance your Krishna Conscious beauties by such activities. So far as Gaurasundara's request for Caitanya Caritamrta, I have already advised Brahmananda to send it to you immediately.
I hope this will meet the both of you in very nice health.
Your ever well-wisher,
A.C. Bhaktivedanta Swami