690512 - Letter to Gaurasundara written from Columbus
From Vanisource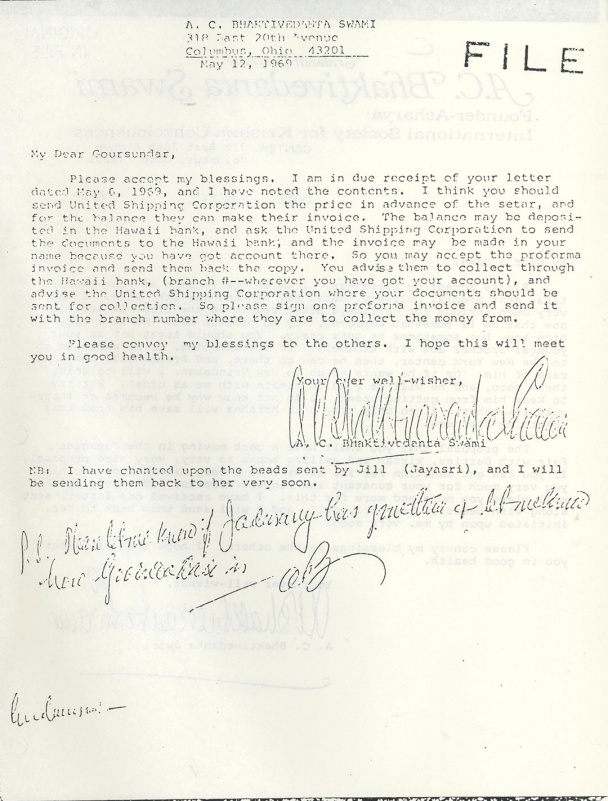 A. C. BHAKTIVEDANTA SWAMI
318 East 20th Avenue
Columbus, Ohio 43201
May 12, 1969



My Dear Goursundar,
Please accept my blessings. I am in due receipt of your letter dated May 6, 1969, and I have noted the contents. I think you should send United Shipping Corporation the price in advance of the setar, and for the balance they can make their invoice. The balance may be deposited in the Hawaii bank, and ask the United Shipping Corporation to send the documents to the Hawaii bank; and the invoice may be made in your name because you have got account there. So you may accept the proforma invoice and send them back the copy. You advise them to collect through the Hawaii bank, (branch #—wherever you have got your account), and advise the United Shipping Corporation where your documents should be sent for collection. So please sign one proforma invoice and send it with the branch number where they are to collect the money from.
Please convey my blessings to the others. I hope this will meet you in good health.
Your ever well-wisher,


 
A.C. Bhaktivedanta Swami

NB: I have chanted upon the beads sent by Jill (Jayasri), and I will be sending them back to her very soon.

P.S. Please let me know if Jadurany has gone there and let me know how Govinda Dasi is. [handwritten]
     





Enclosure:-