690513 - Letter to Tamala Krishna written from Columbus
From Vanisource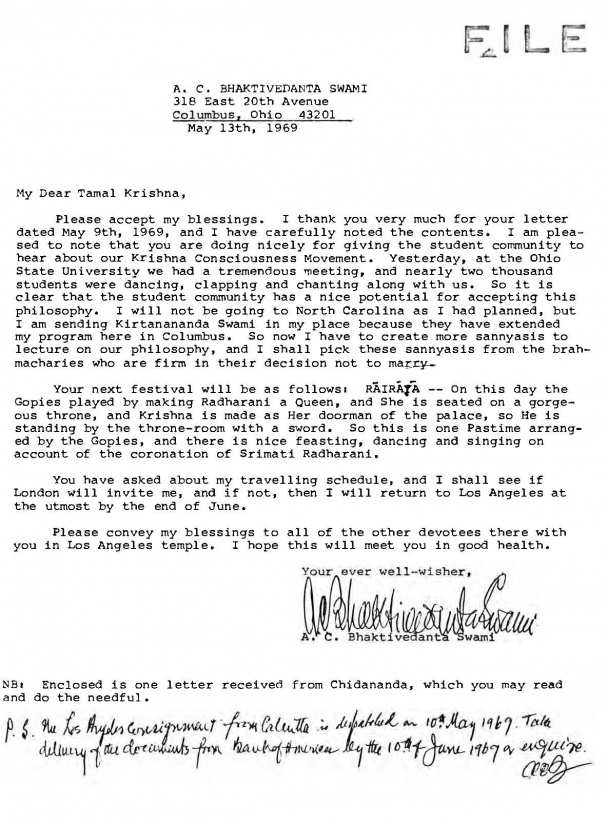 A. C. BHAKTIVEDANTA SWAMI
318 East 20th Avenue
Columbus, Ohio 43201
May 13th, 1969


My Dear Tamal Krishna,
Please accept my blessings. I thank you very much for your letter dated May 9th, 1969, and I have carefully noted the contents. I am pleased to note that you are doing nicely for giving the student community to hear about our Krishna Consciousness Movement. Yesterday, at the Ohio State University we had a tremendous meeting, and nearly two thousand students were dancing, clapping and chanting along with us. So it is clear that the student community has a nice potential for accepting this philosophy. I will not be going to North Carolina as I had planned, but I am sending Kirtanananda Swami in my place because they have extended my program here in Columbus. So now I have to create more sannyasis to lecture on our philosophy, and I shall pick these sannyasis from the brahmacaries who are firm in their decision not to marry.
Your next festival will be as follows: RAIRAYA -- On this day the Gopies played by making Radharani a Queen, and She is seated on a gorgeous throne, and Krishna is made as Her doorman of the palace, so He is standing by the throne-room with a sword. So this is one Pastime arranged by the Gopies, and there is nice feasting, dancing and singing on account of the coronation of Srimati Radharani.
You have asked about my travelling schedule, and I shall see if London will invite me, and if not, then I will return to Los Angeles at the utmost by the end of June.
Please convey my blessings to all of the other devotees there with you in Los Angeles temple. I hope this will meet you in good health.
Your ever well-wisher,


 
A.C. Bhaktivedanta Swami

NB: Enclosed is one letter received from Chidananda, which you may read and do the needful.
P.S. The Los Angeles consignment from Calcutta is dispatched on 10th May 1969. Take delivery of the documents from Bank of America by the 10th of June 1969 or inquire.[handwritten]