690515 - Letter to Rayarama written from Columbus
From Vanisource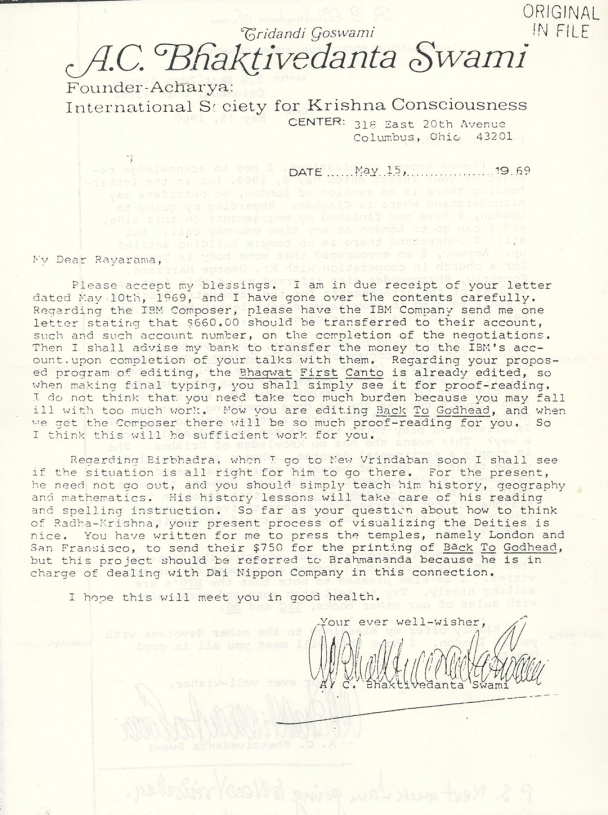 Tridandi Goswami
A.C. Bhaktivedanta Swami
Founder-Acharya:
International Society for Krishna Consciousness
CENTER: 318 East 20th Avenue
Columbus, Ohio 43201
DATE May 15, 1969

My Dear Rayarama,
Please accept my blessings. I am in due receipt of your letter dated May 10th, 1969, and I have gone over the contents carefully. Regarding the IBM Composer, please have the IBM Company send me one letter stating that $660.00 should be transferred to their account, such and such account number, on the completion of the negotiations. Then I shall advise my bank to transfer the money to the IBM's account upon completion of your talks with them. Regarding your proposed program of editing, the Bhagwat First Canto is already edited, so when making final typing, you shall simply see it for proofreading. I do not think that you need take too much burden because you may fall ill with too much work. Now you are editing Back To Godhead, and when we get the Composer there will be so much proofreading for you. So I think this will be sufficient work for you.
Regarding Birbhadra, when I go to New Vrindaban soon I shall see if the situation is all right for him to go there. For the present, he need not go out, and you should simply teach him history, geography and mathematics. His history lessons will take care of his reading and spelling instruction. So far as your question about how to think of Radha-Krishna, your present process of visualizing the Deities is nice. You have written for me to press the temples, namely London and San Francisco, to send their $750 for the printing of Back To Godhead, but this project should be referred to Brahmananda because he is in charge of dealing with Dai Nippon Company in this connection.
I hope this will meet you in good health.