690617 - Letter to Harer Nama and Prabhavati written from New Vrindaban, USA
From Vanisource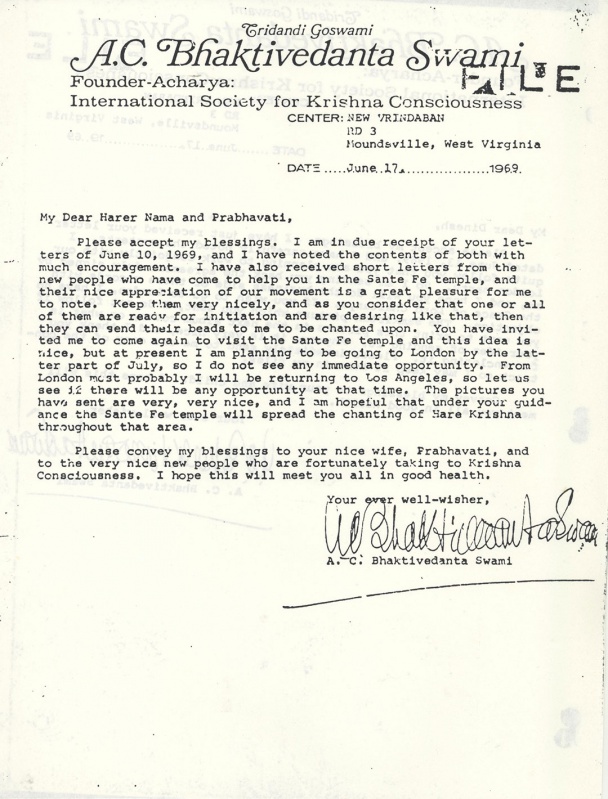 Tridandi Goswami
A.C.Bhaktivedanta Swami
Founder-Acharya:
International Society for Krishna Consciousness
CENTER: NEW VRINDABAN
RD 3
Moundsville, West Virginia
DATE: June 17, 1969

My Dear Harer Nama and Prabhavati,
Please accept my blessings. I am in due receipt of your letters of June 10, 1969, and I have noted the contents of both with much encouragement. I have also received short letters from the new people who have come to help you in the Santa Fe temple, and their nice appreciation of our movement is a great pleasure for me to note. Keep them very nicely, and as you consider that one or all of them are ready for initiation and are desiring like that, then they can send their beads to me to be chanted upon. You have invited me to come again to visit the Sante Fe temple and this idea is nice, but at present I am planning to be going to London by the latter part of July, so I do not see any immediate opportunity. From London most probably I will be returning to Los Angeles, so let us see if there will be any opportunity at that time. The pictures you have sent are very, very nice, and I am hopeful that under your guidance the Sante Fe temple will spread the chanting of Hare Krishna throughout that area.
Please convey my blessings to your nice wife, Prabhavati, and to the very nice new people who are fortunately taking to Krishna Consciousness, I hope this will meet you all in good health.