690701 - Letter to Hayagriva written from Los Angeles
From Vanisource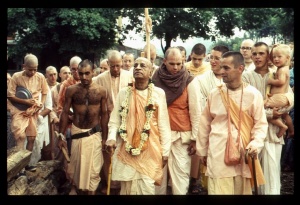 July 01, 1969

1975 So. La Cienega Boulevard
Los Angeles, California 90034

My Dear Hayagriva,
Please accept my blessings. I beg to acknowledge receipt of your letter dated June 27, 1969, and I have noted the contents carefully. So far as the Sanskrit transliterations are concerned, I have done it, and am returning it herewith. Please do the needful. Regarding the New Vrindaban scheme, I think you should now transfer this property to the society's name, and I have asked Brahmananda to invest $600 per month for improvement of the New Vrindaban scheme. The adjoining property, if you propose to purchase, you may keep it in your personal name, and in the future we shall see what is to be done. But there will no hampering in improving that part of the property also. If you purchase that property, it will greatly facilitate for transport.
Now Brahmananda and yourself cooperate in the present scheme of BTG. Put in the magazine as many pictures as possible and articles by the students. The purpose of the magazine is exclusively for the propagation of Krishna Consciousness.
I think that I will have to remain here in Los Angeles at least for the months of July and August. Things are going very nicely here, and the weekly love feasts, more that 150 persons assemble. On the general meeting days, not less than 50 people are assembled. I am simply attending on the Sunday evening Festival and not for the general classes. The accommodations are also very nice. So if there is no inconvenience for you, you may also come here to stay for some days.
Please convey my blessings to the others. I hope this will meet you in good health.
Your ever well-wisher,
A.C. Bhaktivedanta Swami