690713 - Letter to Bhagavan and Krishna Bhamini written from Los Angeles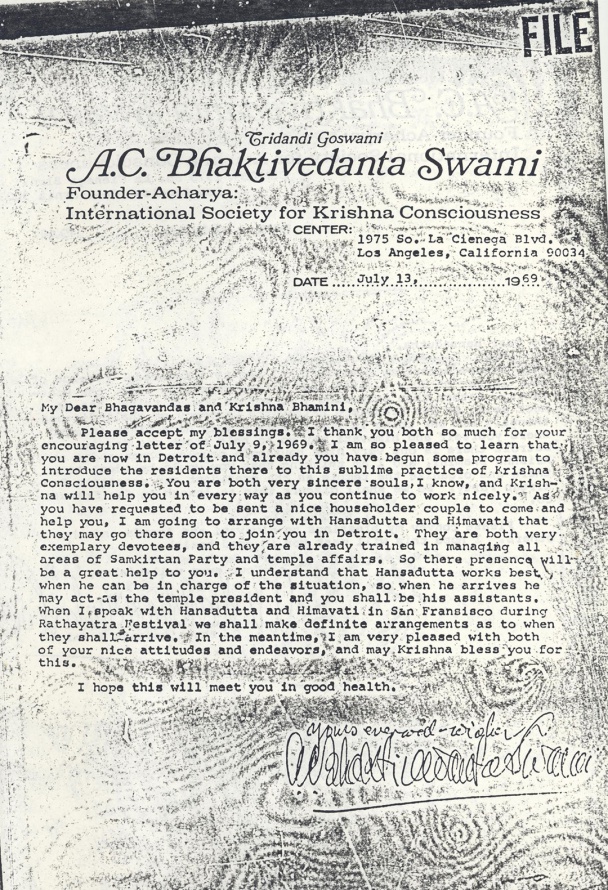 Tridandi Goswami
A.C. Bhaktivedanta Swami
Founder-Acharya:
International Society for Krishna Consciousness

CENTER: 1975 So. La Cienega Blvd.
Los Angeles, California 90034
DATE: July 13, 1969

My Dear Bhagavandas and Krishna Bhamini,
Please accept my blessings. I thank you both so much for your encouraging letter of July 9, 1969. I am so pleased to learn that you are now in Detroit and already you have begun some program to introduce the residents there to this sublime practice of Krishna Consciousness. You are both very sincere souls, I know, and Krishna will help you in every way as you continue to work nicely. As you have requested to be sent a nice householder couple to come and help you, I am going to arrange with Hansadutta and Himavati that they may go there soon to join you in Detroit. They are both very exemplary devotees, and they are already trained in managing all areas of Samkirtan Party and temple affairs. So their presence will be a great help to you. I understand that Hansadutta works best when he can be in charge of the situation, so when he arrives he may act as the temple president and you shall be his assistants. When I speak with Hansadutta and Himavati in San Francisco during Rathayatra Festival we shall make definite arrangements as to when they shall arrive. In the meantime, I am very pleased with both of your nice attitudes and endeavors, and may Krishna bless you for this.
I hope this will meet you in good health.
yours ever well-wisher
[handwritten]