690728 - Letter to Vrndavanesvari written from Los Angeles
From Vanisource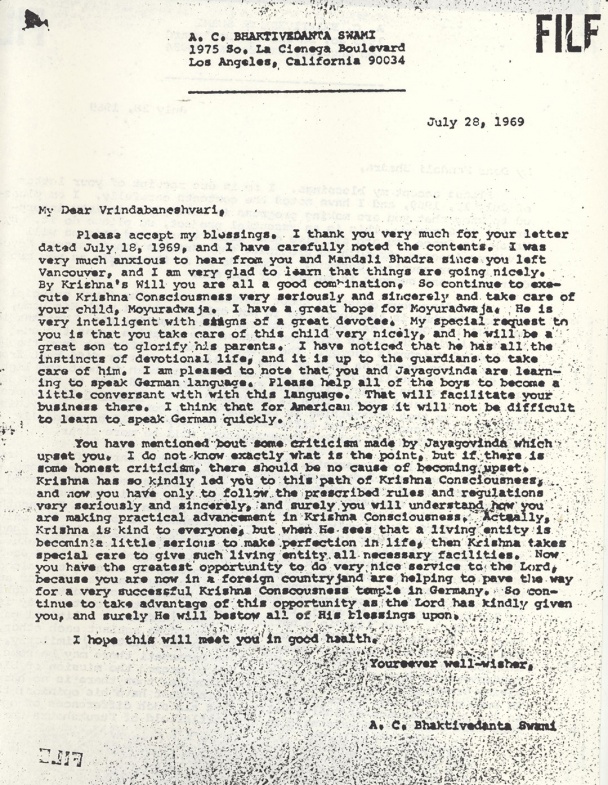 A. C. BHAKTIVEDANTA SWAMI
1975 So. La Cienega Boulevard
Los Angeles, California 90034
July 28, 1969

My Dear Vrindabaneshvari,
Please accept my blessings. I thank you very much for your letter dated July 18, 1969, and I have carefully noted the contents. I was very much anxious to hear from you and Mandali Bhadra since you left Vancouver, and I am very glad to learn that things are going nicely. By Krishna's Will you are all a good combination. So continue to execute Krishna Consciousness very seriously and sincerely and take care of your child, Moyuradwaja. I have a great hope for Moyuradwaja. He is very intelligent with signs of a great devotee. My special request to you is that you take care of this child very nicely, and he will be a great son to glorify his parents. I have noticed that he has all the instincts of devotional life, and it is up to the guardians to take care of him. I am pleased to note that you and Jayagovinda are learning to speak German language. Please help all of the boys to become a little conversant with with this language. That will facilitate your business there. I think that for American boys it will not be difficult to learn to speak German quickly.
You have mentioned about some criticism made by Jayagovinda which upset you. I do not know exactly what is the point, but if there is some honest criticism, there should be no cause of becoming upset. Krishna has so kindly led you to this path of Krishna Consciousness, and now you have only to follow the prescribed rules and regulations very seriously and sincerely, and surely you will understand how you are making practical advancement in Krishna Consciousness. Actually, Krishna is kind to everyone, but when He sees that a living entity is becoming a little serious to make perfection in life, then Krishna takes special care to give such living entity all necessary facilities. Now you have the greatest opportunity to do very nice service to the Lord, because you are now in a foreign country and are helping to pave the way for a very successful Krishna Consciousness temple in Germany. So continue to take advantage of this opportunity as the Lord has kindly given you, and surely He will bestow all of His blessings upon.
I hope this will meet you in good health.
Your ever well-wisher,
[Unsigned]
A. C. Bhaktivedanta Swami