690816 - Letter to Upendra written from Los Angeles
From Vanisource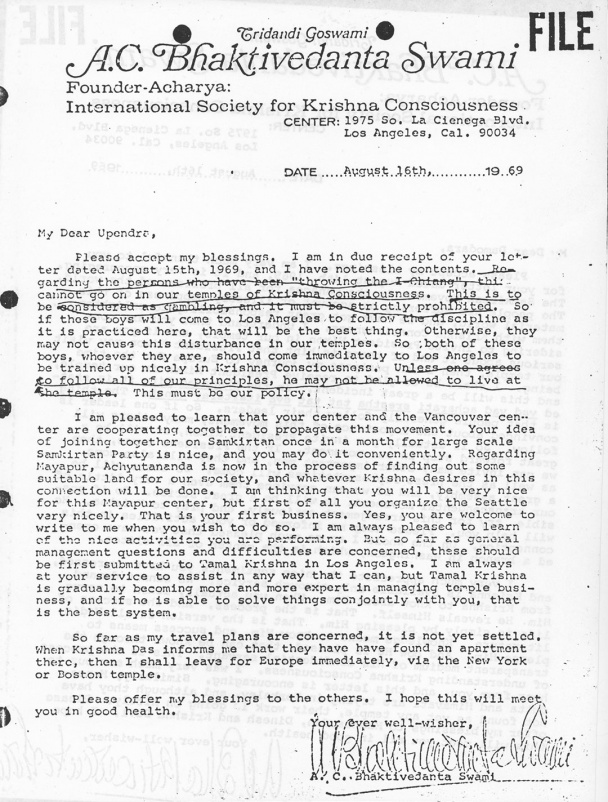 Tridandi Goswami
A.C. Bhaktivedanta Swami
Founder-Acharya:
International Society for Krishna Consciousness
CENTER:  1975 So. La Cienega Blvd.
              Los Angeles, Cal. 90034
DATE.....August..16th,........1969

My Dear Upendra,
Please accept my blessings. I am in due receipt of your letter dated August 15th, 1969, and I have noted the contents. Regarding the persons who have been "throwing the I-Chiang," this cannot go on in our temples of Krishna Consciousness. This is to be considered as gambling, and it must be strictly prohibited. So if these boys will come to Los Angeles to follow the discipline as it is practiced here, that will be the best thing. Otherwise, they may not cause this disturbance in our temples. So both of these boys, whoever they are, should come immediately to Los Angeles to be trained up nicely in Krishna Consciousness. Unless one agrees to follow all of our principles, he may not be allowed to live at the temple. This must be our policy.
I am pleased to learn that your center and the Vancouver center are cooperating together to propagate this movement. Your idea of joining together on Sankirtan once in a month for large scale Samkirtan Party is nice, and you may do it conveniently. Regarding Mayapur, Achyutananda is now in the process of finding out some suitable land for our society, and whatever Krishna desires in this connection will be done. I am thinking that you will be very nice for this Mayapur center, but first of all you organize the Seattle very nicely. That is your first business. Yes, you are welcome to write to me when you wish to do so. I am always pleased to learn of the nice activities you are performing. But so far as general management questions and difficulties are concerned, these should be first submitted to Tamal Krishna in Los Angeles. I am always at your service to assist in any way that I can, but Tamal Krishna is gradually becoming more and more expert in managing temple business, and if he is able to solve things conjointly with you, that is the best system.
So far as my travel plans are concerned, it is not yet settled. When Krishna Das informs me that they have found an apartment there, then I shall leave for Europe immediately, via the New York or Boston temple.
Please offer my blessings to the others. I hope this will meet you in good health.