690905 - Letter to Dr. Syama Sundardas Brahmacari written from Hamburg
From Vanisource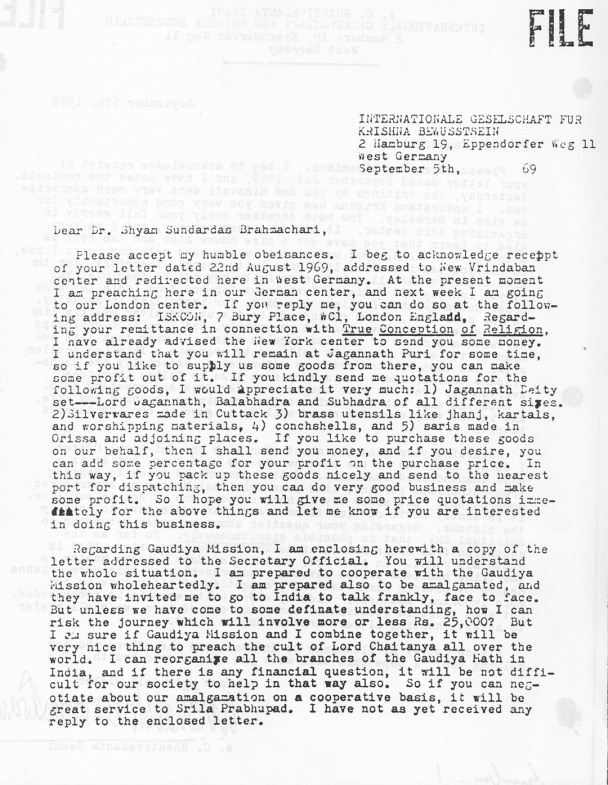 INTERNATIONALE GESELLSCHAFT FUR
KRISHNA BEWUSSTSEIN
2 Hamburg 19, Eppendorfer Weg 11
West Germany
September 5th, 69

Dear Dr. Shyam Sundardas Brahmachari,
Please accept my humble obeisances. I beg to acknowledge receipt of your letter dated 22nd August 1969, addressed to New Vrindaban center and redirected here in West Germany. At the present moment I am preaching here in our German center, and next week I am going to our London center. If you reply me, you can do so at the following address: ISKCON, 7 Bury Place, WC1, London England. Regarding your remittance in connection with True Conception of Religion, I have already advised the New York center to send you some money. I understand that you will remain at Jagannath Puri for some time, so if you like to supply us some goods from there, you can make some profit out of it. If you kindly send me quotations for the following goods, I would appreciate it very much: 1) Jagannatha Deity set—Lord Jagannath, Balabhadra and Subhadra of all different sizes. 2) Silverwares made in Cuttack 3) brass utensils like jhanj, kartals, and worshiping materials, 4) conchshells, and 5) saris made in Orissa and adjoining places. If you like to purchase these goods on our behalf, then I shall send you money, and if you desire, you can add some percentage for your profit on the purchase price. In this way, if you pack up these goods nicely and send to the nearest port for dispatching, then you can do very good business and make some profit. So I hope you will give me some price quotations immediately for the above things and let me know if you are interested in doing this business.
Regarding Gaudiya Mission, I am enclosing herewith a copy of the letter addressed to the Secretary Official. You will understand the whole situation. I am prepared to cooperate with the Gaudiya Mission wholeheartedly. I am prepared also to be amalgamated, and they have invited me to go to India to talk frankly, face to face. But unless we have come to some definite understanding, how I can risk the journey which will involve more or less Rs. 25,000? But I am sure if Gaudiya Mission and I combine together, it will be very nice thing to preach the cult of Lord Chaitanya all over the world. I can reorganize all the branches of the Gaudiya Math in India, and if there is any financial question, it will be not difficult for our society to help in that way also. So if you can negotiate about our amalgamation on a cooperative basis, it will be great service to Srila Prabhupad. I have not as yet received any reply to the enclosed letter.