690919 - Letter to Sudama written from Tittenhurst, UK
From Vanisource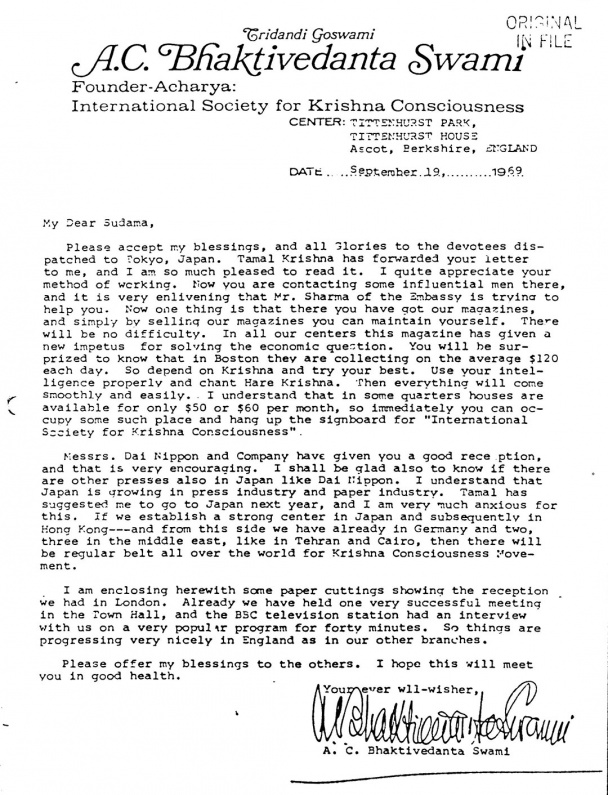 Tridandi Goswami
A.C. Bhaktivedanta Swami
Founder-Acharya:
International Society for Krishna Consciousness


CENTER: TITTENHURST PARK,
TITTENHURST HOUSE
Ascot, Berkshire, ENGLAND

DATE ....September...19th,.....1969..

My Dear Sudama,
Please accept my blessings, and all Glories to the devotees dispatched to Tokyo, Japan. Tamal Krishna has forwarded your letter to me, and I am so much pleased to read it. I quite appreciate your method of working. Now you are contacting some influential men there, and it is very enlivening that Mr. Sharma of the Embassy is trying to help you. Now one thing is that there you have got our magazines, and simply by selling our magazines you can maintain yourself. There will be no difficulty. In all our centers this magazine has given a new impetus for solving the economic question. You will be surprised to know that in Boston, they are collecting on the average $120 each day. So depend on Krishna and try your best. Use your intelligence properly and chant Hare Krishna. Then everything will come smoothly and easily. I understand that in some quarters, houses are available for only $50 or $60 per month, so immediately you can occupy some such place and hang up the signboard for "International Society for Krishna Consciousness".
Messrs. Dai Nippon and Company have given you a good reception, and that is very encouraging. I shall be glad to also know if there are other presses also in Japan like Dai Nippon. I understand that Japan is growing in the press industry and paper industry. Tamal has suggested me to go to Japan next year, and I am very much anxious for this. If we establish a strong center in Japan and subsequently in Hong Kong—and from this side, we have already in Germany and two, three in the Middle East, like in Tehran and Cairo, then there will be a regular belt all over the world for Krishna Consciousness Movement.
I am enclosing herewith some paper cuttings showing the reception we had in London. Already we have held one very successful meeting in the Town Hall, and the BBC television station had an interview with us on a very popular program for forty minutes. So things are progressing very nicely in England as in our other branches.
Please offer my blessings to the others. I hope this will meet you in good health.