691016 - Letter to Subala written from Tittenhurst, UK
From Vanisource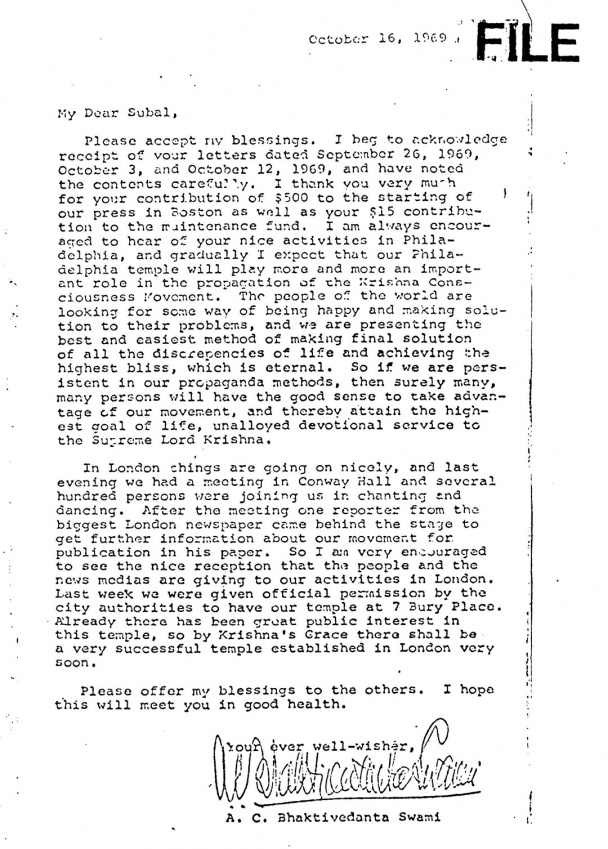 October 16, 1969

My Dear Subal,
Please accept my blessings. I beg to acknowledge receipt of your letters dated September 26, 1969, October 3, and October 12, 1969, and have noted the contents carefully. I thank you very much for your contribution of $500 to the starting of our press in Boston as well as your $15 contribution to the maintenance fund. I am always encouraged to hear of your nice activities in Philadelphia, and gradually I expect that our Philadelphia temple will play more and more an important role in the propagation of the Krishna Consciousness Movement. The people of the world are looking for some way of being happy and making solution to their problems, and we are presenting the best and easiest method of making final solution of all the discrepancies of life and achieving the highest bliss, which is eternal. So if we are persistent in our propaganda methods, then surely many, many persons will have the good sense to take advantage of our movement, and thereby attain the highest goal of life, unalloyed devotional service to the Supreme Lord Krishna.
In London things are going on nicely, and last evening we had a meeting in Conway Hall and several hundred persons were joining us in chanting and dancing. After the meeting one reporter from the biggest London newspaper came behind the stage to get further information about our movement for publication in his paper. So I am very encouraged to see the nice reception that the people and the news medias are giving to our activities in London. Last week we were given official permission by the city authorities to have our temple at 7 Bury Place. Already there has been great public interest in this temple, so by Krishna's Grace there shall be a very successful temple established in London very soon.
Please offer my blessings to the others. I hope this will meet you in good health.