691023 - Letter to Damodara written from Tittenhurst, UK
From Vanisource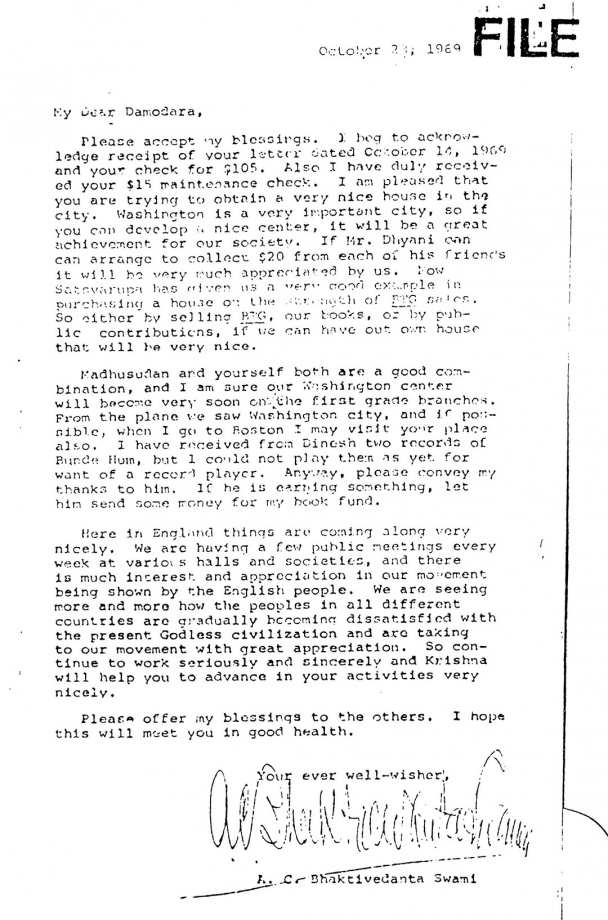 October 23, 1969

My Dear Damodara,
Please accept my blessings. I beg to acknowledge receipt of your letter dated October 14, 1969 and your check for $105. Also I have duly received your $15 maintenance check. I am pleased that you are trying to obtain a very nice house in the city. Washington is a very important city, so if you can develop a nice center, it will be a great achievement for our society. If Mr. Dhyani can arrange to collect $20 from each of his friends it will be very much appreciated by us. Now Satsvarupa has given us a very good example in purchasing a house on the strength of BTG sales. So either by selling BTG, our books, or by public contributions if we can have our own house, that will be very nice.
Madhusudan and yourself both are a good combination, and I am sure our Washington center will become very soon one of the first grade branches. From the plane we saw Washington city, and if possible, when I go to Boston I may visit your place also. I have received from Dinesh two records of Bunde Hum, but I could not play them as yet for want of a record player. Anyway, please convey my thanks to him. If he is earning something, let him send some money for my book fund.
Here in England things are coming along very nicely. We are having a few public meetings every week at various halls and societies, and there is much interest and appreciation in our movement being shown by the English people. We are seeing more and more how the peoples in all different countries are gradually becoming dissatisfied with the present Godless civilization and are taking to our movement with great appreciation. So continue to work seriously and sincerely and Krishna will help you to advance in your activities very nicely.
Please offer my blessings to the others. I hope this will meet you in good health.