691123 - Letter to Advaita written from London
From Vanisource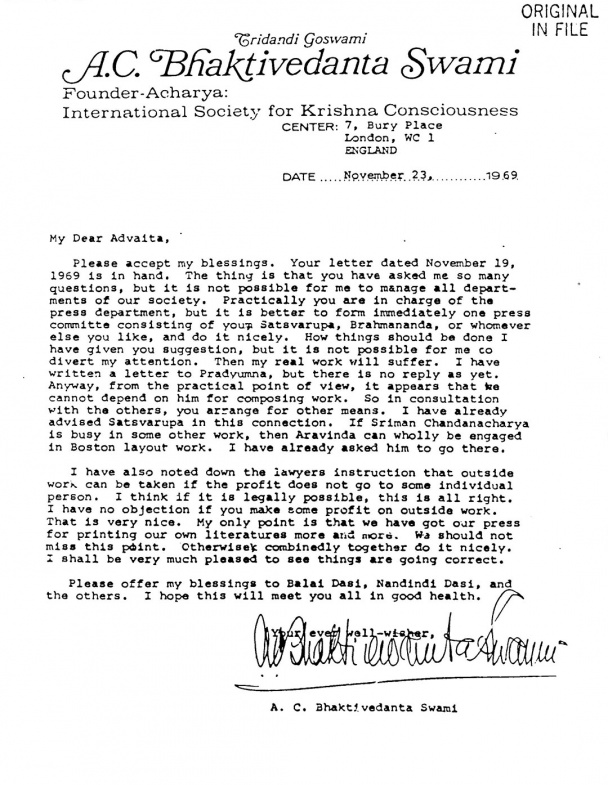 Tridandi Goswami
A.C. Bhaktivedanta Swami
Founder-Acharya:
International Society for Krishna Consciousness
CENTER: 7, Bury Place
              London, WC 1
              ENGLAND
DATE .....November..23,..........1969.



My Dear Advaita,
Please accept my blessings. Your letter dated November 19, 1969 is in hand. The thing is that you have asked me so many questions, but it is not possible for me to manage all departments of our society. Practically you are in charge of the press department, but is is better to form immediately one press committee consisting of you, Satsvarupa, Brahmananda, or whomever else you like, and do it nicely. How things should be done I have given you suggestion, but it is not possible for me to divert my attention. Then my real work will suffer. I have written a letter to Pradyumna, but there is no reply as yet. Anyway, from the practical point of view, it appears that we cannot depend on him for composing work. So in consultation with the others, you arrange for other means. I have already advised Satsvarupa in this connection. If Sriman Chandanacharya is busy in some other work, then Aravinda can wholly be engaged in Boston layout work. I have already asked him to go there.
I have also noted down the lawyers instruction that outside work can be taken if the profit does not go to some individual person. I think if it is legally possible, this is all right. I have no objection if you make some profit on outside work. That is very nice. My only point is that we have got our press for printing our own literatures more and more. We should not miss this point. Otherwise combinedly together do it nicely. I shall be very much pleased to see things are going correct.
Please offer my blessings to Balai Dasi, Nandini Dasi, and the others. I hope this will meet you all in good health.

A.C. Bhaktivedanta Swami