700121 - Letter to Unknown written from Los Angeles
From Vanisource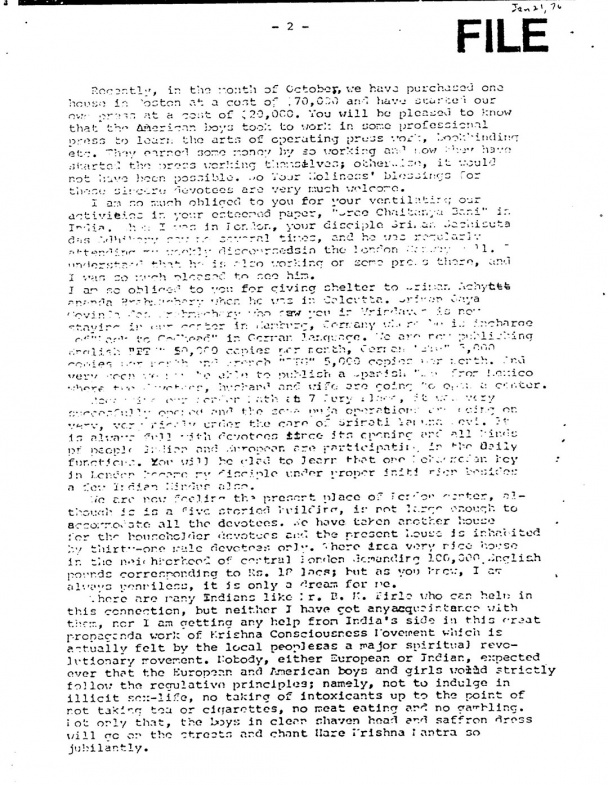 January 21, 70 [handwritten]

[PAGE MISSING]
Recently, in the month of October, we have purchased one house in Boston at a cost of $70,000 and have started our own press at a cost of $20,000. You will be pleased to know that the American boys took to work in some professional press to learn the arts of operating press work, bookbinding etc. They earned some money by so working and now they have started the press working themselves; otherwise, it would not have been possible. So Your Holiness' blessings for these sincere devotees are very much welcome.
I am so much obliged to you for your ventilating our activities in your esteemed paper, "Sree Chaitanya Vani" in India. When I was in London, your disciple Sriman Sacisuta das Adhikary saw me several times, and he was regularly attending my weekly discourses in the London Conway Hall. I understand that he is also working on some press there, and I was so much pleased to see him.
I am so obliged to you for giving shelter to Sriman Acyutananda Brahmacary when he was in Calcutta. Sriman Jaya Govinda das Brahmacary who saw you in Vrindavan is now staying in our center in Hamburg, Germany where he is in charge of "Back to Godhead" in German language. We are now publishing English "BTG" 50,000 copies per month, German "BTG" 5,000 copes per month and French "BTG" 5,000 copies per month. And very soon we may be able to publish a Spanish "BTG" from Mexico where two devotees, husband and wife are going to open a center.
Regarding our London Math at 7 Bury Place, it was very successfully opened and the seva puja operations are going on very, very nicely under the care of Srimati Yamuna Devi. It is always full with devotees since its opening and all kinds of people Indian and European are participating in the daily functions. You will be glad to learn that one Mohammedan boy in London became my disciple under proper initiation besides a few Indian Hindus also.
We are now feeling the present place of London center, although is is a five storied building, is not large enough to accommodate all the devotees. We have taken another house for the householder devotees and the present house is inhabited by thirty-one male devotees only. There is a very nice house in the neighborhood of central London demanding 100,000 English pounds corresponding to Rs. 18 lacs; but as you know, I am always penniless, it is only a dream for me.
There are many Indians like Mr. B. K. Birla who can help in this connection, but neither I have got any acquaintance with them, nor I am getting any help from India's side in this great propaganda work of Krishna Consciousness Movement which is actually felt by the local people as a major spiritual revolutionary movement. Nobody, either European or India, expected ever that the European and American boys and girls would strictly follow the regulative principles; namely, not to indulge in illicit sex-life, no taking of intoxicants up to the point of not taking tea or cigarettes, no meat eating and no gambling. Not only that, the boys in clean-shaven head and saffron dress will go on the streets and chant Hare Krishna Mantra so jubilantly.