700124 - Letter to Gaurasundara written from Los Angeles
From Vanisource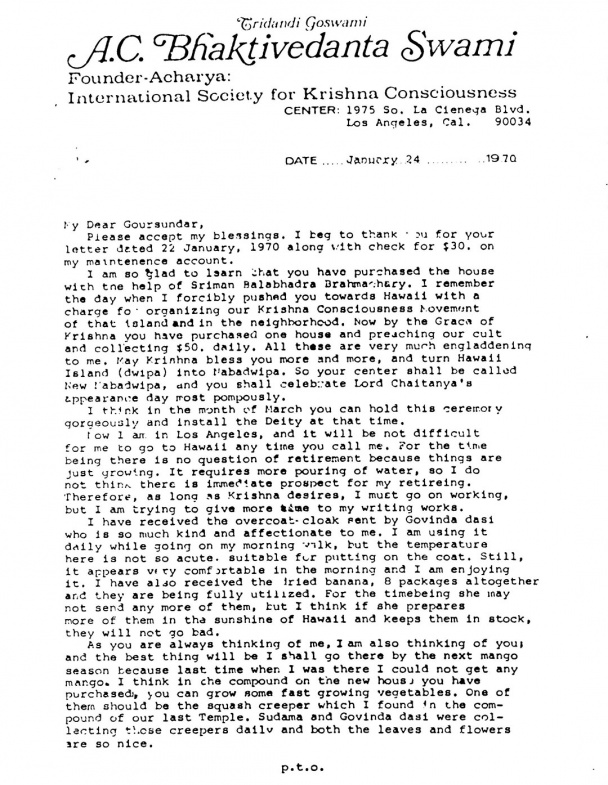 Tridandi Goswami
A.C. Bhaktivedanta Swami
Founder-Acharya:
International Society For Krishna Consciousness
CENTER: 1975 So La Cienega Blvd.
              Los Angeles, Cal.   90034

DATE January 24, 1970


My Dear Goursundar,
Please accept my blessings. I beg to thank you for your letter dated 22 January, 1970 along with check for $30 on my maintenance account.
I am so glad to learn that you have purchased the house with the help of Sriman Balabhadra Brahmacary. I remember the day when I forcibly pushed you towards Hawaii with a charge for organizing our Krishna Consciousness Movement of that island and in the neighborhood. Now by the Grace of Krishna you have purchased one house and preaching our cult and collecting $50 daily. All these are very much engladdening to me. May Krishna bless you more and more, and turn Hawaii Island (dwipa) into Nabadwipa. So your center shall be called New Nabadwipa, and you shall celebrate Lord Chaitanya's appearance day most pompously.
I think in the month of March you can hold this ceremony gorgeously and install the Deity at that time.
Now I am in Los Angeles, and it will be not difficult for me to go to Hawaii any time you call me. For the time being there is no question of retirement because things are just growing. It requires more pouring of water, so I do not think there is immediate prospect for my retiring. Therefore, as long as Krishna desires, I must go on working, but I am trying to give more time to my writing works.
I have received the overcoat-cloak sent by Govinda dasi who is so much kind and affectionate to me. I am using it daily while going on my morning walk, but the temperature here is not so acute, suitable for putting on the coat. Still, it appears very comfortable in the morning and I am enjoying it. I have also received the dried banana, 8 packages altogether and they are being fully utilized. For the time being she may not send any more of them, but I think if she prepares more of them in the sunshine of Hawaii and keeps them in stock, they will not go bad.
As you are always thinking of me, I am also thinking of you; and the best thing will be I shall go there by the next mango season because last time when I was there I could not get any mango. I think in the compound on the new house you have purchased, you can grow some fast growing vegetables. One of them should be the squash creeper which I found in the compound of our last Temple. Sudama and Govinda dasi were collecting those creepers daily and both the leaves and flowers are so nice.
[PAGE MISSING]