700228 - Letter to Bank of Baroda Calcutta written from Los Angeles
From Vanisource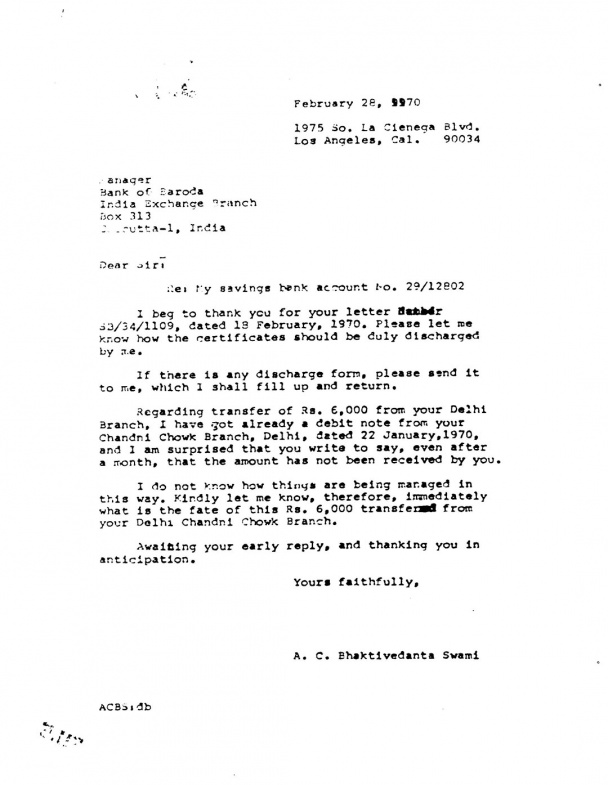 February 28, 1970
1975 So La Cienega Blvd.
Los Angeles, Cal. 90034

Manager
Bank of Baroda
India Exchange Branch
Box 313
Calcutta-1, India

Dear Sir:
Re: My savings bank account No. 29/12802
I beg to thank you for your letter number SB/34/1109, dated 18 February, 1970. Please let me know how the certificates should be duly discharged by me.
If there is any discharge form, please send it to me, which I shall fill up and return.
Regarding transfer of Rs. 6,000 from your Delhi Branch, I have got already a debit note from your Chandni Chowk Branch, Delhi, dated 22 January, 1970, and I am surprised that you write to say, even after a month, that the amount has not been received by you.
I do not know how things are being managed in this way. Kindly let me know, therefore, immediately what is the fate of this Rs. 6,000 transferred from your Delhi Chandni Chowk Branch.
Awaiting your early reply, and thanking you in anticipation.
Yours faithfully,



A.C. Bhaktivedanta Swami


ACBS:db