700320 - Letter to Pradyumna written from Los Angeles
From Vanisource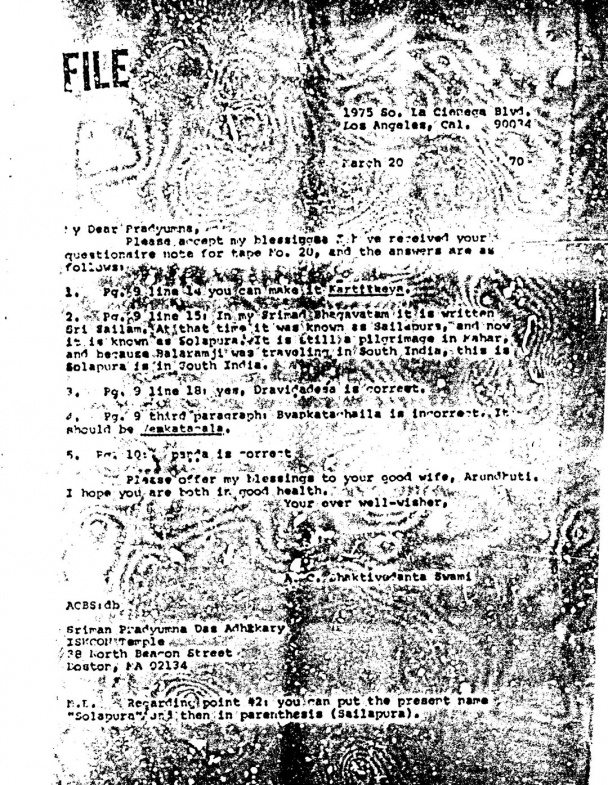 1975 So. La Cienega Blvd.
Los Angeles, Cal.     90034

March 20                     70



My Dear Pradyumna,
Please accept my blessings. I have received your questionnaire note for tape No. 20, and the answers are as follows:
1. Pg. 9 line 14 you can make it Kartikeya.
2. Pg. 9 line 15: In my Srimad Bhagavatam it is written Sri Sailam. At that time it was known as Sailapura, and now it is known as Solapura. It is still a pilgrimage in Mahar, and because Balaramaji was traveling in South India, this is Solapura is in South India.
3. Pg. 9 line 18: yes, Dravidadesa is correct.
4. Pg. 9 third paragraph: Bvankatachaila is incorrect. It should be Venkatacala.
5. Pg. 10: panda is correct
Please offer my blessings to your good wife, Arundhuti. I hope you are both in good health.
Your ever well-wisher,



A.C. Bhaktivedanta Swami

ACBS:db
Sriman Pandyumna Das Adhikary
ISKCON Temple
38 North Beacon Street
Boston, MA 02134

N.B. Regarding point #2: you can put the present name "Solapura" and then in parenthesis (Sailapura).