700325 - Letter to Manager of Bank of Baroda written from Los Angeles
From Vanisource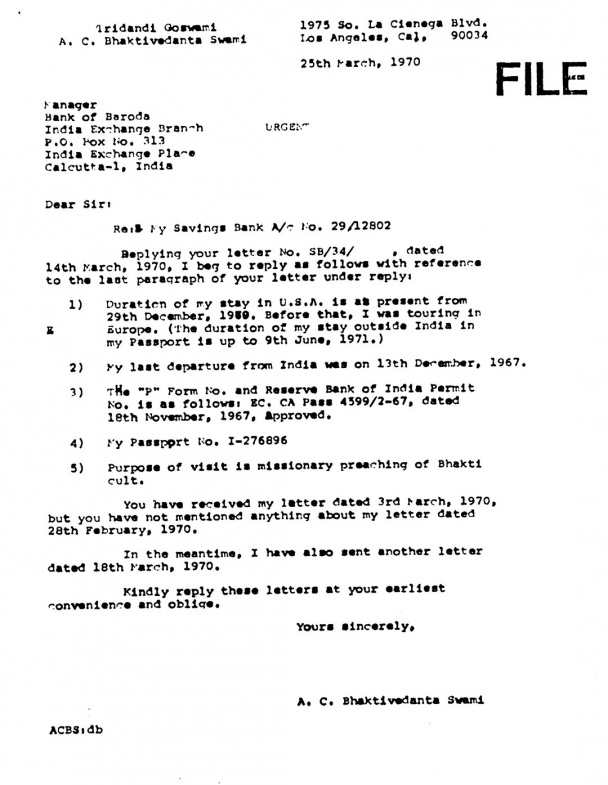 Tridandi Goswami
A.C. Bhaktivedanta Swami
1975 So La Cienega Blvd.
Los Angeles, Cal. &nbps; &nbps; 90034
25th March, 1970

Manager
Bank of Baroda
India Exchange Branch
P.O. Box No. 313
India Exchange Place
Calcutta-1, India
(URGENT)

Dear Sir:
Re: My Savings Bank A/c No. 29/12802
Replying your letter No. SB/34/, dated 14th March, 1970, I beg to reply as follows with reference to the last paragraph of your letter under reply:
1) Duration of my stay in U.S.A. is as present from 29th December, 1969. Before that, I was touring in Europe. (The duration of my stay outside India in my Passport is up to 9th June, 1971.)
2) My last departure from India was on 13rd December, 1967.
3) The "P" Form No. and Reserve Bank of India Permit No. is as follows: EC. CA Pass 4599/2-67, dated 18th November, 1967, approved.
4) My Passport No. I-276896
5) Purpose of visit is missionary preaching of Bhakti cult.
You have received my letter dated 3rd March, 1970, but you have not mentioned anything about my letter dated 28th February, 1970.
In the meantime, I have also sent another letter dated 18th March, 1970.
Kindly reply these letters at your earliest convenience and oblige.
Yours sincerely,



A.C. Bhaktivedanta Swami
ACBS:db